North and South Korea will march together at the 2018 Winter Olympics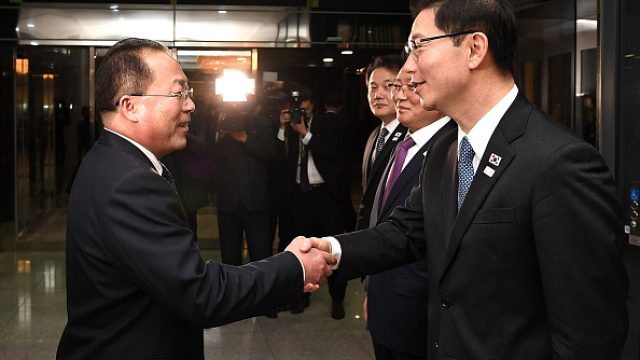 The Olympics is often hailed as a time for countries to get together and enjoy the spirit of friendly competition. In the spirit of the games, South Korea announced today, January 17th, that North and South Korea will march as one team at the opening ceremonies to the 2018 Winter Olympics in PyeongChang, South Korea.
The Korean Unification Flag features a blue Korean peninsula on a white background. It has been used before in the 2006 Winter Olympics in Italy and the 1991 World Table Tennis Championships. The two countries will also come together for a joint women's ice hockey team, and skiers from North and South Korean Olympic team will train with each other at the same facilities. A group of 230 cheerleaders will also be sent from North Korea to support the team.
North and South Korea will present their plan to the International Olympic Committee on January 20th. Their decision to participate together was reached after three days of talks beginning on January 9th in a small town on the border. It was the first time in two years that representatives from the two countries had met, in a sign of decreasing tensions.
North Korean leader Kim Jong-un announced in a New Year's Day speech that he would be willing to send athletes to the 2018 Winter Olympics, and arrangements for a North Korean delegation have happened quickly since then.
So far, the only North Korean Olympians are the figure skating pair Ryom Tae-ok and Kim Ju-sik, who qualified for the games with only a month until the opening ceremony occurs on February 9th.
https://www.youtube.com/watch?v=YEHgMfKm8U0?feature=oembed
However, even though North Korea missed the registration deadline of October 31st, the IOC has said it will consider entries for North Korean athletes.
The unified Korean team is a remarkable display of peace between North and South Korea. We're looking forward to watching the 2018 Winter Olympics, and we wish all athletes good luck in the games.