Normani's nostalgic "Motivation" music video is healing for a Black girl who grew up in the 2000s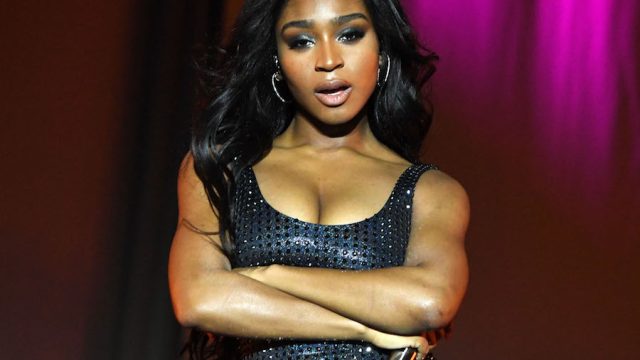 Starting when I was 10 years old, I can remember coming home and watching 106 & Park on BET, waiting for singers like Aaliyah and Beyoncé to walk on set as guests. Like clockwork, every night at 6 p.m., I'd sit in front of the TV, watch the latest music videos, and obsess over them. But looking back, I rarely ever saw a woman who looked like me on that stage. I wanted to see an artist with dark skin so I could say, "That's me!" And it's not that these dark-skinned singers didn't exist; I just saw light-skinned artists a lot more often because they got media attention. That's how colorism works.
Almost 20 years later, we still have a long way to go when it comes to ridding the music and entertainment industries of colorism. But one artist has knocked it out of the park for me in the representation department: Normani. When I became a fan (shortly before Fifth Harmony's hiatus), it changed everything for me. She was the artist missing from my life during all those years I watched 106 & Park.
In case you've been living under a rock and sleeping on this wonderful woman, allow me to wake you the hell up: Normani is a 23-year-old Atlanta-born entertainer who started her career in Fifth Harmony on the American version of The X Factor. After six years of winning awards and setting records, the girl group announced an indefinite hiatus in March 2018. Normani then pushed full steam ahead, earning a triple-platinum collab with Khalid ("Love Lies") and a double-platinum collab with Sam Smith ("Dancing with a Stranger"), among a host of other collaborations. Most recently, she opened for Ariana Grande on the U.S. leg of The Sweetener Tour.
Moreover, Normani openly discusses being a dark skinned Black woman in the music industry. In January 2019, the singer told Billboard, "…There's a responsibility I have as a Black woman—one of the very few to have the power to kill it. Even in the mainstream, there's not many of us. Especially ­chocolate girls. Like, being African-American is one thing, but girls [with] my complexion…it's unheard of. It's me, and SZA. Who else?"
So when she dropped her debut solo single "Motivation" on August 16th, along with a music video filled with early-2000s nostalgia, it was special. The video opens with a young dark-skinned girl (Jené Marie), who is meant to evoke a young Normani. She races to sit in front of the TV and watch 106 & Park, where a music video is premiering. (We also see a small shoutout to the way music videos used to look, with credits in the bottom left corner.)
That music video on 106 & Park stars an adult Normani who immediately gives us "Crazy in Love " Beyoncé realness—strutting down an alleyway in slow motion, wearing a midriff-bearing top and blue jeans. Her look is complete with a bellybutton chain and blue eyeshadow, reminiscent of the late Aaliyah and her "Rock the Boat" music video. She also wears an airbrushed outfit bearing her birth year, 1996, across her top and the song title, "Motivation," on her skirt. The ensemble looks like the kind of outfit you got made at the mall on Saturday afternoons.
The video is packed with non-stop choreography, and we're mesmerized by '00s references for days. Scenes feature nods to Ciara's "1, 2 Step," J.Lo and Ja Rule's "I'm Real," and Britney Spears's "Baby One More Time." Towards the end of the video, Normani dances in fake rain, a staple of early-2000s R&B. Topping it all off, the video is co-directed by Dave Meyers who might as well be the king of late '90s and 2000s-era music videos, having directed them for artists like Aaliyah, Missy Elliott, and OutKast.
https://www.instagram.com/p/B1P0pkUFflW
There is something so magical about an artist creating nostalgia by adding you to the story when you weren't in it before. I can remember watching these kinds of videos on 106 & Park, but I don't remember the singers having a skin color like mine. For me, watching Normani in "Motivation" makes up for that fact, healing a scar that I never realized was there.
Back in March, I caught Normani on tour with Ariana Grande. I was the only Black girl in a group of five, making it a completely different experience for me. I enjoy Ariana, but for me, this was about Normani. I remember thinking that if I missed even a minute of her performance, I would throw a tantrum. When she came out on stage, I told my friend, "Don't say anything to me for the next 30 minutes." Not in a rude kind of way—in a "Please let me experience this moment that I never got as a child" kind of way.
With this music video, it feels like Normani telling a bunch of us girls with her skin tone: I see you. I understand you. I'm going to do right by you.
Seeing someone like Normani on TV when I was a kid would have felt like being given the world. I think that's why she means so much to me; the kid in me sees her and feels seen by her. I can only imagine the hope and excitement that a kid in 2019 feels watching "Motivation." After experiencing racism during her career (even taking a break from Twitter because of harassment), she's doing a giant justice to herself and the future Normanis of the world.
I hope Normani feels on top of the world. I am thrilled to watch her take her seat on the musical throne while she pays tribute to those who came before her and uplifts those who are like her.