Fans are supporting this member of Fifth Harmony for this important reason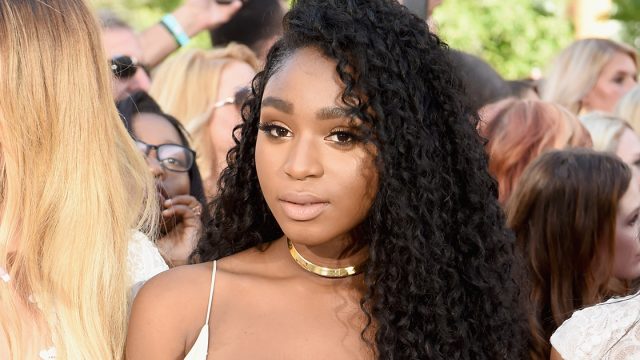 We're pretty sure that Fifth Harmony have released the song of 2016 with their epic and catchy "Work From Home." The band have had a crazy year, too, with the song marking the first time a girl group cracked the Billboard Top 10 in a decade. Previously, the record was set by The Pussycat Dolls.
https://www.youtube.com/watch?v=5GL9JoH4Sws?feature=oembed
Being in a girl group, however, is always marred by speculation that the members of the band don't actually get on, something that Fifth Harmony have been subject to since their formation on The X Factor USA back in 2012.
Recently, band member Normani Kordei was involved in a fresh scandal, which saw the press accuse her of "throwing shade" at fellow bandmate Camila Cabello. While answering questions during a Facebook Live stream with Galore, fans thought that Normani describing Camila as "cute" and "quirky" was shade after she appeared to go into more detail when quizzed about the other members of the group.
Obviously, this is silly, and Normani took to Twitter to rebuke claims that there was trouble in Fifth Harmony.
"It is a shame that after four years together as a group I have to address foolishness manufactured by those that have absolutely no idea what goes on," she wrote. "I have love and respect for all four of my bandmates whether you choose to believe it or not."
While you might expect things would end there, it seems that Normani has now been subjected horrific racist cyber bulling. Not cool. 
Writing a note to her fans on Twitter, Normani said that she was giving up the social media platform.
"Over the past four years in the public eye I've learned to grow a thick skin to critics and those not like me," she wrote. "I've never been one to deny anyone of their opinions, but over the course of this last week and especially over the last 48 hours I've not just been cyber bullied, I've been racially cyber bullied with tweets and pictures so horrific and racially charged that I can't subject myself any longer to the hate."
Wow, this is so totally unacceptable we don't even know where to begin. Abuse on social media of any kind is never acceptable, and we really feel like more needs to be done to support women and women of color from these hurtful comments.
Continuing, Normani chastised those who were tweeting abuse, calling them what they are, "cowards."
"I have nothing but love for everyone, even my haters and I hope I can lead by example," she wrote before going to thank Twitter for acting quickly to the torrents of abuse.
Read Normani's full statement here.
This heartbreaking incident follows mere weeks after Ghostbusters star Leslie Jones was also subjected to misogynistic and racist abuse on Twitter.
Now, however, it seems that fans are rallying around Normani in support. While the singer might have quit Twitter, fans have taken to Instagram to leave beautiful comments under her pictures.
To highlight just how much of a queen she is, fans started posting the crown emoji under all her pictures ???.
We're so glad that fans are rallying around Normani. Abuse on social media of any kind is never acceptable, and we really feel like more needs to be done to support women and women of color from these hurtful comments.
We really hope that Normani is okay, and that she might be able to start to enjoy Twitter again in the future. She really is a queen.