Nordstrom's Korean beauty "pop-ins" are basically a beauty nerd's fantasy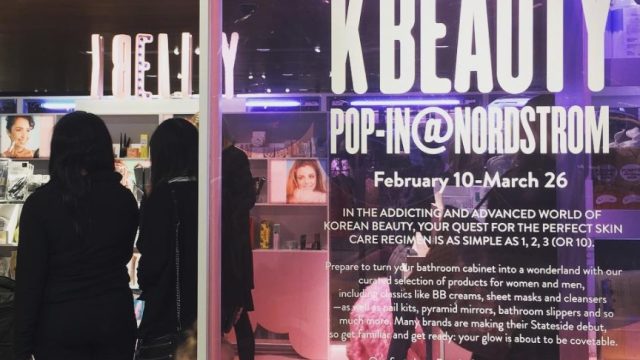 While Korean beauty brands are taking over the Western market, many fans (myself included) have to go through the internet to get their fix. (Unless you're lucky enough to live near a Face Shop or Nature Republic or something like that. Congrats!) Yet even those stores generally specialize in only one or a handful of brands. Enter: Nordstrom.
As one Ms. Gwen Stefani once eloquently chanted, "This shit is b-a-n-a-n-a-s!" Nordstrom has been on a Korean import kick recently; this beauty pop-in is one of three dedicated to the country's goods. (A previous one featured Gentle Monster sunglasses; the last one will feature Korean fashion.)
Back to the beauty pop-in. The selection is comparable to most online Korean beauty retailers, and I've already got my eye on this ridiculously cute brow gel. Some brands, like Too Cool For School, have some presence in the U.S. market already. Nordstrom's brought over more of their stock, so hello dinosaur-themed cushioned blush???
And as cute as the website is, the IRL pop-ins look, in a word, amazing:
https://www.instagram.com/p/BQV2hooB8wa
The Nordstrom pop-ins are live until March 26, so you have until then to sort your paycheck issues out. See you in the checkout line.