What happened when this non-weed smoker went to a cannabis dinner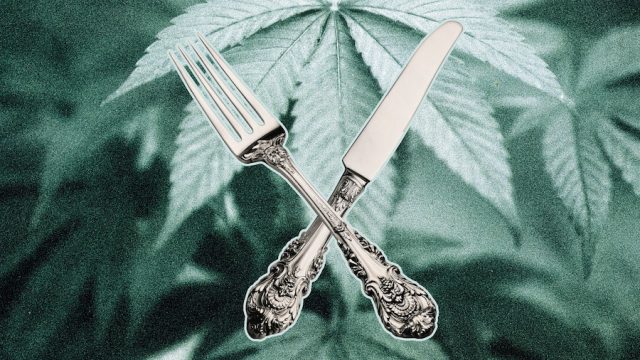 Marijuana is not my vice of choice. After a stressful day, I much prefer a glass of pinot to unwind. Even better, pair that pinot with a hand-rolled tagliatelle appetizer followed by some seared day boat scallops. I'm admittedly a total food snob and a wino. So why did I want to try cannabis this time?
Recently, I've read about a bunch of these underground dinner parties happening all over L.A. You don't know what you're eating, where you're going, or even what to expect until you arrive. But if the price tag is any indication, you're signing up for some good, quality eats.
Last year, I took my boyfriend hang-gliding for his birthday, so I'd set the bar pretty high for his celebrations. What unique experience could I share with him for his birthday this year? Well, in case you hadn't heard, marijuana is now legal in California.
And that led me to PopCultivate — an underground cannabis-infused dinner party hosted by chef and former chemist Chris Yang. My boyfriend and I had watched that show on Vice, Bong Appétit, where host Abdullah Saeed would team up with famous L.A. chefs to create a cannabis-infused meal. On the show, the food always looks delicious and everyone is super happy to be there. This PopCultivate event, called Cannabis Supper Club, seemed pretty similar to what we'd watched on TV, so I thought to myself, "Who doesn't like eating good food and feeling happy?"
I felt slightly fearful that a multi-course cannabis-infused dinner would send me into a never-before-experienced high, leaving me somewhat comatose — but I bought the tickets anyway.
I was e-mailed the address, and I expected that it would be taking place in one of those warehouse rental spaces all over Downtown Los Angeles, filled with a bunch of stoners.
But from the get-go, it was nothing like I imagined.
Our Uber driver pulled up in front of a lavish high-rise building, and we were greeted in the lobby by a jovial young man who led us up to a private apartment where 12 other guests were gathered. The space was magnificent, with big floor-to-ceiling windows and a beautifully set dinner table in the center of the main room. We were surrounded by tea candles, and I felt like I'd just arrived at an intimate dinner party at the home of a cool, more successful friend.
A waiter approached us, offering a tray of prosciutto-wrapped blue-cheese-stuffed figs and a spoon with tomato and burrata (there was no THC — the chemical in marijuana that gets you high — in these dishes). After chowing down on the plentiful and delicious appetizers, we were invited to sit in the "smoking room."
The party was BYOB (bring your own booze/bud!), and in the smoking room, all of of us got to know each other while guests smoked whatever they brought with them. Having had uncomfortable experiences after combining smoking and edibles in college, I cautiously declined the joints, bong, and other goodies being passed around. It was an eclectic group of people — couples of all ages, visitors from Asia, and people going solo — with all of us wondering what this dinner was going to be like. The waiter came back into the smoking room and offered us an infused hibiscus tea.
"Here we go," I thought as I clinked glasses and took my first sip. Oh, no — this stuff is tasty. There wasn't even a hint of a marijuana taste, which made it all too easy to throw back; I had to remind myself to go slow. Unfortunately, I don't always listen to my better self, so I couldn't resist when a second glass was offered. Soon, I felt the subtle effects of the THC-infused drink. I was a bit buzzed, similar to how I feel after a good glass of wine.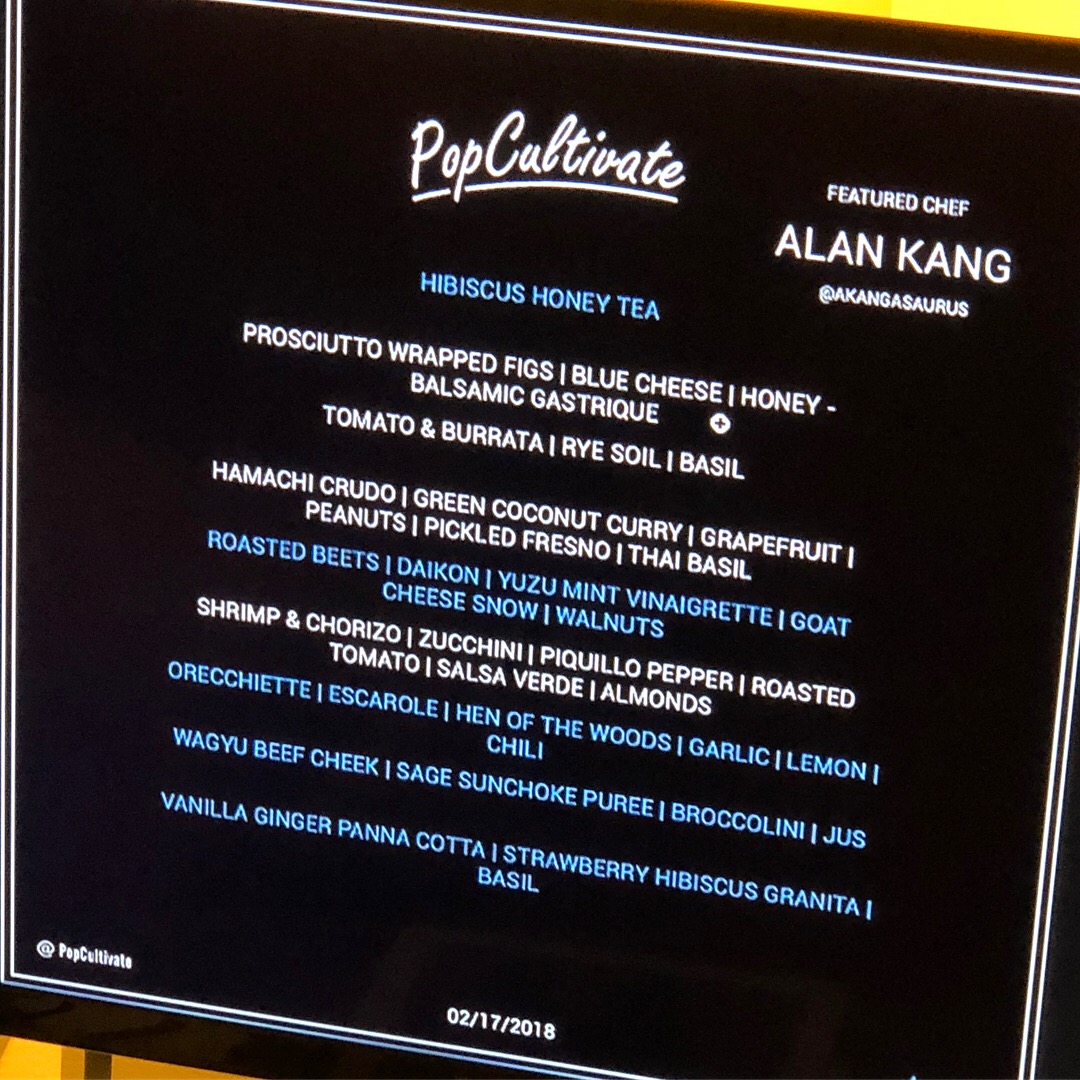 When dinner was ready, we all returned to the table for our six-course meal. Yang, the host and creator of PopCultivate, had a guest chef, Alan Kang, joining him that night. It was the first of their intimate dinner series, and they talked about feeling excited to get more creative and technical with the dishes we'd be eating. As the first course came out Top Chef-style (I love that show, so this was thrilling), Kang stood before us and described the meal's ingredients. It was also explained to us that the food infused with cannabis wouldn't actually smell or taste like marijuana, and that their effects would come upon us more instantly than we've experienced with other edibles.
Instead of that common feeling of an edible suddenly hitting you out of nowhere —  "not high, not high, SO HIGH!" — it was a much more gradual, yet quick buildup. More than anything, the strongest emotion I felt was happiness.
That was such a welcome surprise since, in the past, marijuana has made me feel extremely paranoid — that's one of the reasons I usually avoid it. But this time, I wanted to be social and bask in the company of strangers. I didn't feel like my mind was wandering out of control. I was very much in the moment, enjoying it.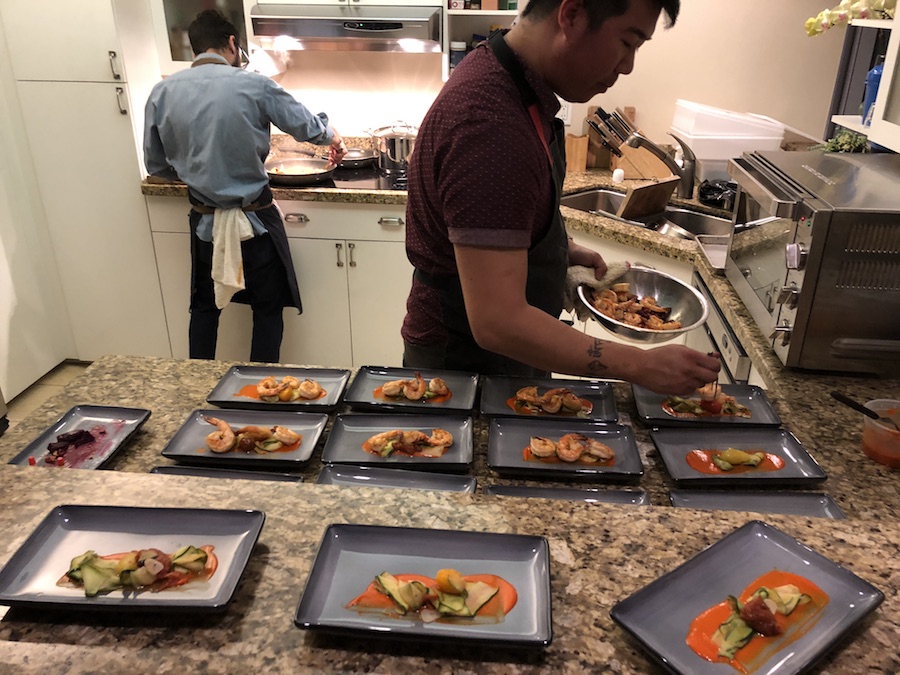 Everything we ate that night was just as good — if not better — than many of the amazing meals I've had at fancy restaurants. The hamachi was fresh as can be, the roasted beet salad had such an interesting flavor, and the wagyu beef cheek was one of the most tender, melt-in-your-mouth pieces of meat I've ever eaten. I found that some of the people at the dinner were also extremely interested in food. We talked about our favorite restaurants and dishes throughout L.A., and I still couldn't believe I was having such a great time with these strangers, considering my memories of freaking out while high.
The team at PopCultivate knew exactly what they were doing when they crafted this menu. Their expertise allowed them to properly dose the meal so that it was a positive experience. Case in point: dessert. We ate a vanilla ginger panna cotta infused only with CBD (the component of cannabis that doesn't get you high, but helps you relax and has a host of medicinal benefits). It was the perfect end to a once-in-a-lifetime meal.
I don't plan to get high all the time now, but I have to say that my opinion of marijuana changed after this experience.
Let's just say I'm no longer only a food snob, but a proud cannabis snob, too.