This non-binary Mexican-American wore a swap meet dress to prom, and their photo went viral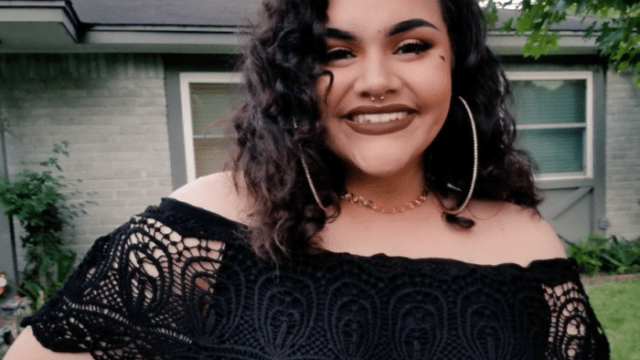 Prom means many different things to many people. For some, it's an excuse to get that one dress you've been eyeing at the department store. For others, it's an excuse to get creative and wear something more "unconventional" to the school dance. And for 18-year-old Charlie Peña, prom was the perfect excuse to show off their Mexican heritage, and wear a dress they found at the swap meet.
false
The internet pretty much lost it in the best way.
And while many may not understand the joy that is the swap meet, Peña certainly does. They told mitú,
"A lot of kids at my school make fun of it for being 'ghetto' or 'too chunti.' I like to go because there's a lot to look at, and honestly I can't find good quality huaraches anywhere else. I remember walking around with my mom looking for a fruit stand and seeing the full dress on a mannequin. I looked at my mom and I told her, 'That's it, ese es mi vestido.' I tried it on and I knew it was the one. I bought it on the spot.
That's the sort of commitment we appreciate! And the fact they were fearless enough to wear this dress just proves how empowering fashion can be. false
One of the coolest parts about this escapade was the fact that Twitter was so on board for this declaration.
Users near and far shouted their support for Charlie.
Charlie looks dazzling and we just hope they had fun at their prom!