Busy Philipps feels bad about outing Noah Centineo as a ghoster, but we forgive her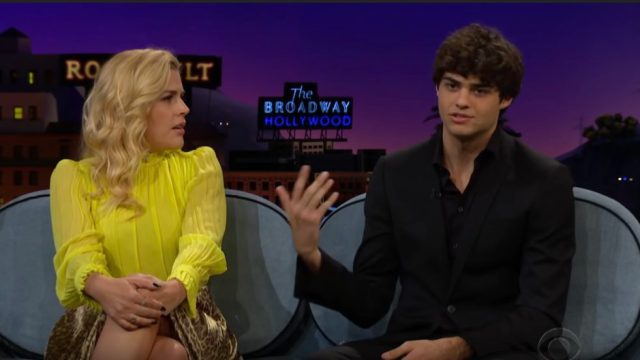 If you own a Netflix account/have access to the internet, then it's more than likely you've heard of Noah Centineo, aka this summer's biggest breakout star. He captured our hearts in not one but two Netflix romantic comedies, and is also set to star in some of next year's most highly anticipated films. But while we love to think that Centineo is perfection incarnate, it turns out he might just be human like the rest of us, even when it comes to the dating game.
Centineo appeared alongside Busy Philipps in the interview segment on the November 8th episode of The Late Late Show with James Corden. The stars promoted upcoming projects, shared funny old headshots, and talked about the worst jobs they've ever had. And Philipps totally called Centineo out on ghosting one of her friends.
Corden playfully asked Philipps if she had any friends she could set young Centineo up with, to which she replied,
"Actually, he started chatting with a friend of mine...but then he ghosted her. One of my writers on my show."
Centineo looked confused at first, until Philipps clarified it was one of her writers, at which point he exclaimed, "Ahhh!"—seemingly remembering the person she alluded to. According to TMZ, the original segment was much longer than aired, but Centineo's PR team worried it would tarnish his "nice guy" image, so they asked Corden to edit the clip down.
And it looks like Philipps feels pretty bad about outing the young actor as a ghoster.
"It was very unplanned that I brought that up on Corden, and I did feel bad because he is a child, but a child was fully hitting up my 40-year-old friend," Philipps said during a panel at Vulture Festival presented by AT&T, per The Cut. "He was like, 'Oh yeah, you're right, I did that. He was very sweet about it. I just felt like it was very shitty of me.
At the end of the day, this only makes Centineo more relatable—because hey, while we've almost all been ghosted before, we've also likely ghosted someone else. Because we're human, and our lives get busy, and online dating is hard. Basically, it's okay, Noah. We forgive you. But maybe use this as learning moment on how to end things tactfully with someone you're seeing.