There won't be a Nobel Prize in literature this year because of a sexual abuse scandal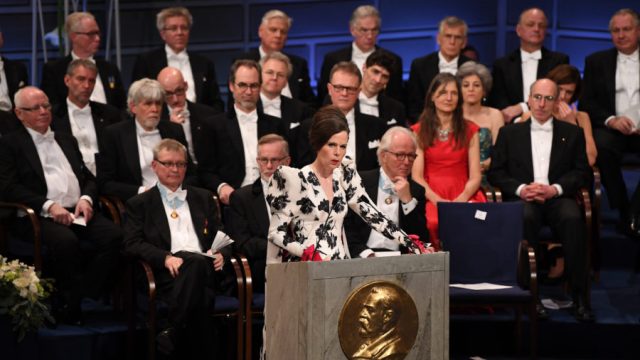 The Swedish Academy, which decides the winner of the annual Nobel Prize in Literature, made a drastic decision on Thursday, May 3rd, to postpone the naming of a 2018 laureate. This is the first time since World War II that the Academy will not award a winner. Instead, two winners will be named in 2019. This recent decision to withhold the Nobel Prize was made in light of a sexual abuse scandal linked to the Academy.
In November 2017, amid the #MeToo movement, 18 women accused French photographer Jean-Claude Arnault of sexual assault and harassment. Arnault and wife Katarina Frostenson, a member of the Swedish Academy, ran a popular Stockholm cultural club which received Academy support, The New York Times reports.
The Swedish daily newspaper Dagens Nyheter originally reported that Arnault's harassment spree spanned over 20 years and his victims even included the Crown Princess Victoria, whom Arnault reportedly groped at an Academy event.
When the sexual abuse scandal came to light, members of the Swedish Academy began to take action. The first to do so was Sara Danius, the Academy's first female chief official. But when she publicly cut ties between the Academy and Arnault, even going so far as to hire a lawyer to look into the relationship further, Danius was ousted from her position within the Academy by her peers.
After Danius was demoted, other Academy members stepped away from the panel, both in support of Danius and disapproval of the Academy's willingness to sweep the Arnault situation under the rug.
"Confidence in the Academy from the world around us has sunk drastically in the past half year," the Academy's new chief official Anders Olsson said according to the Times, "and that is the decisive reason that we are postponing the prize."
Because of Danius' dismissal and Frostenson's continued Academy membership, eight members of the Academy's 18-person panel have left, leaving only 10 active members — too few to elect new members, according to the Academy's rules. King Carl XVI Gustaf had to step in on Wednesday, May 2nd, to amend the rules in order for existing members to elect more.
In a press release, Carl-Henrik Heldin, Chairman of the Board of the Nobel Foundation, stated that the Nobel Foundation hopes the Swedish Academy restores its credibility by enacting the appropriate reforms.