These "no afro" casting calls prove that the fashion industry still has work to do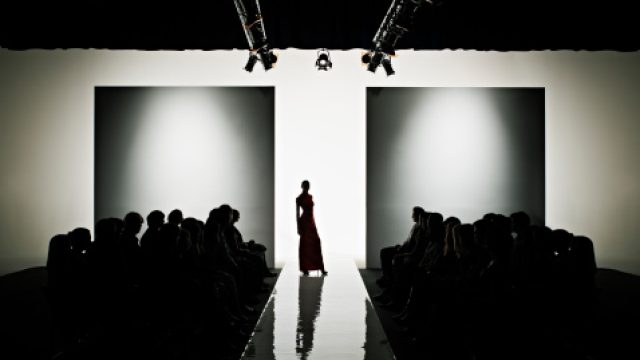 We'd be remiss to ignore the fashion industry's efforts toward inclusion. After all, New York Fashion Week's Fall/Winter 2017 season featured at least one model of color in every show, a huge feat compared to years past.
Natural hair has also maintained a sizable presence, so much so, that even brands like Victoria's Secret are encouraging catwalkers to embrace their curls instead of grabbing a flat iron.
And with our locks still being policed in schools and the workplace, it's encouraging to see high profile women, like model Ebonee Davis, championing Black women and our texture in places that have historically rejected them.
Last year, the 23-year-old sparked a much needed dialogue about fashion activism with an open letter to the industry and this year, she upped the ante with a rousing TED Talk about the discrimination she's experienced as a model of color.
And in between these milestone moments, she's using social media as a way to shed light on the injustices that continue. Earlier this week, all eyes were on Davis' Twitter account, where she retweeted a series of casting call emails that called for "no afro" and "all except afro."
The screenshots, shared by user @LilahParsons in response to an ELLE UK feature penned by Leomie Anderson, reiterate the importance of shedding light on systematic racism within a seemingly "liberal" industry.
"…when people ask me why I'm so adamant about discussing race and inclusion in the fashion industry, specifically pertaining to hair," wrote Davis above the revealing emails.
Although these emails are from 2011, they're a reminder of just how normal it's become to exclude women of color from bigger opportunities, simply because of how their hair is textured. And as a result, it's increasingly important for us to speak up, so that history doesn't repeat itself and designers will start to hire stylists who are capable of caring for textured hair.
Runway stats are encouraging, but it would certainly be interesting to know if these problems have persisted or gotten better behind the scenes (we've reached out to Davis for comment). Only time will tell. Until then, stay woke.
This article originally appeared in Essence.
Related Links
[stylized_links related_links="%3Cp%3E%3Ca%20href%3D%22https%3A%2F%2Fwww.essence.com%2Ffestival%2F2017-essence-festival%2Funfiltered-chaka-khan-quotes%22%3E17%20badass%20Chaka%20Khan%20quotes%20every%20woman%20should%20live%20by%3C%2Fa%3E%3C%2Fp%3E%3Cp%3E%3Ca%20href%3D%22https%3A%2F%2Fwww.essence.com%2Fnews%2Fcbc-fbi-missing-dc-teens%22%3EThe%20Congressional%20Black%20Caucus%20is%20urging%20the%20FBI%20to%20help%20find%20missing%20DC%20teens%3C%2Fa%3E%3C%2Fp%3E%3Cp%3E%3Ca%20href%3D%22https%3A%2F%2Fwww.essence.com%2Fsyndication%2Fnicola-yoon-everything-everything-movie-book-cover%22%3E%E2%80%9CEverything%2C%20Everything%E2%80%9D%20author%20talks%20movie%20adaptation%2C%20plus%20see%20the%20tie-in%20color%3C%2Fa%3E%3C%2Fp%3E" /]