Nina Dobrev and her friends hysterically channeled the Blue Man group with this face mask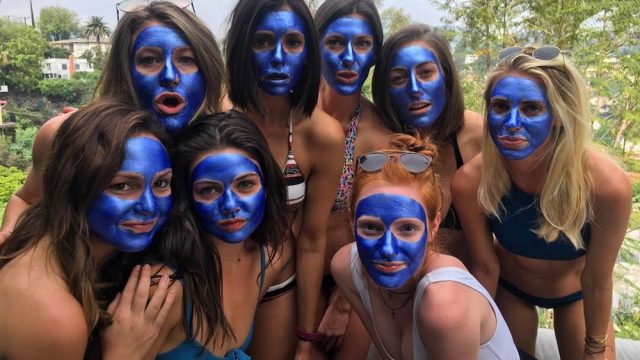 Is that Nina Dobrev or Tobias Fünke from Arrested Development? Underneath all that blue paint, we can hardly tell who's channeling the Blue Man Group here…kidding! Nina and her girl squad took to Instagram to show off their hilarious face masks yesterday, dubbing themselves as the "Blue (wo)Man Group." And as you can probably guess, whenever Nina and her crew are involved in an impromptu Instagram shoot, the results were absolutely hysterical.
In the first of the slew of snapshots, the actress and her pals sported GlamGlow's new Sonic the Hedgehog face masks while piled on top of each other to pose with an equally blue pool.
The XXX: Return of Xander Cage star didn't exactly limit the mask's health benefits to just her face. Nope, instead, she used the leftover mask to paint on some gnarly blue abs of steel, captioning the funny shot: "Same abs. Different effort."
This peel-off mask is all the rage on Instagram right now, selling out on the Sephora app before it even officially launched back in January. Lucky for the former Vampire Diaries star and her besties, it seems they didn't have any trouble scoring the nutrient-packed, color changing mud mask.
Nina's practically the queen of the Instagram girl squad (no offense, TSwift), and is always showcasing her girl gang's adventures at places like Coachella, Joshua Tree, and Hawaii. And if you look very closely (and behind the blue paint), you'll note fellow CW star Danielle Campbell of The Originals is also a member of Nina's girl tribe.
While these Blue Man-perfect masks no doubt make for a great selfie opportunity, they're also packed with skin-nourishing ingredients like algae extracts, Icelandic kelp, and hyaluronic acid. And if you're willing to shell out a cool $70, you too can have Nina-perfect skin (and faux abs!).