Nike has launched its first ever plus-size line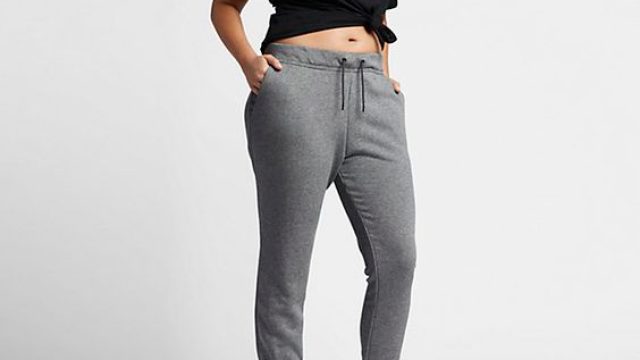 You probably have known approximately forever that "plus-size" women exercise just as much as "straight-size" women do (because duh). And though it's taken some activewear companies a little while longer to figure that out, Nike has finally launched its first ever plus-size line — and damn is it good.
The company started expanding its plus-size range last year, beginning with bras (it previously only offered a handful of plus items). Then, in December, it released a line of 85 plus-size items, including tanks, leggings, and shorts, available in sizes up to 3X. And this week, Nike added 44 womenswear items up to sizes 38E and 3X, and has tapped lifestyle bloggers Danielle Vanier and Grace Victory to promote its "Black & White" collection campaign.
"I made a conscious decision at the start of 2017 to move more. As many of you will already know, I have fibromyalgia and this affects many aspects of my life," wrote Vanier in a blog post. "When Nike contacted me to collaborate with them on the launch of their 'Black & White' collection, it was the push I needed to get me started."
Victory writes that exercise is a part of her self-care routine, and that she's enthusiastic about Nike's new offerings. "I'm so so happy [Nike has] decided to extend their sizes to fit the bigger girl," she writes. "But without compromising on style or the classic Nike branding. When it comes to shopping or running errands, comfort for me is absolutely key — leggings, trainers, and a warm piece of outerwear is my uniform."