9 sets of "The Nightmare Before Christmas" nails that are scary fabulous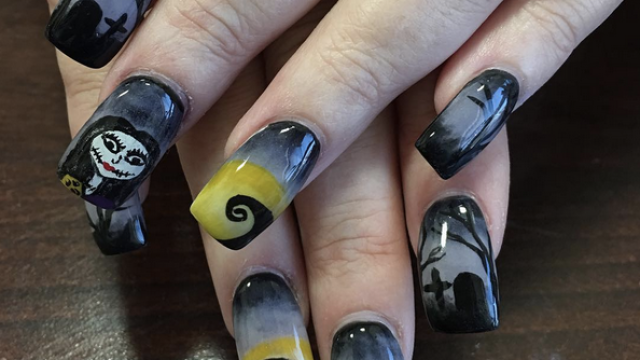 It's Halloween time, which means we're adding little Halloween touches to our office, our house, our wardrobe, and especially our nails. There are so many fun ways that we can celebrate Halloween on our digits, but some of our favorites are these incredible examples of nail art inspired by the scary holiday classic, The Nightmare Before Christmas.
1. These perfect ombre nails featuring Jack Skellington are making us freak out in the best way.
https://www.instagram.com/p/BLEWsavBhU1
2. These black and white points are so edgy they look a little dangerous.
3. This swirl pattern is stuff of totally twisted dreams.
4. These matte nails are hauntingly perfect.
5. These nails give us a sneaky hint at Nightmare Before Christmas with the stitches detail over blue.
https://www.instagram.com/p/BLZg5nJgb_N
6. These nails are also scary detailed, and we love those little orange pumpkins!
7. These nails really spook us when the lights go out.
https://www.instagram.com/p/BLPzpxfjt3U
8. The ghostly purple hue of these nails make them really stand out.
9. And finally, why we're not quite there yet, but these nails definitely say Merry Scary Christmas.