Nicole Richie explains why her rap show is your next quarantine must-watch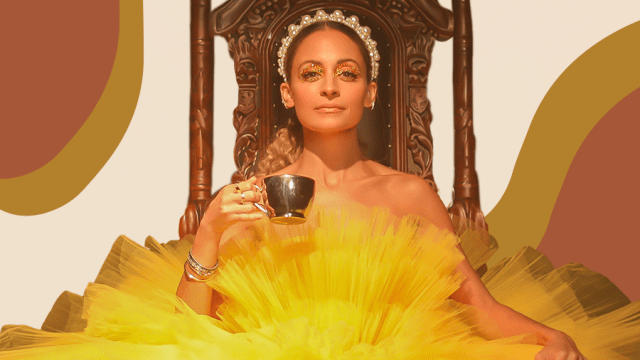 In the very first scene of her new show, Nikki Fre$h, Nicole Richie—wearing a bedazzled headband, a floor-length gown, and bright pink glitter eyeshadow—steps into the office of her husband, Joel Madden, and brother-in-law, Benji Madden, to pitch them her groundbreaking new idea: She's going to be the next trap music star. Oh, and her lyrics are going to be about nature and self-care. As Richie summarizes in the series' intro: "Wellness has a new voice, and she raps."
Now available to watch on the new mobile streaming platform Quibi, Nikki Fre$h follows Richie as she channels her passion for the planet (and big Virgo energy, TBH) to bring her cause-crusading, hip hop-rapping alter ego, Nikki Fre$h, to life. It's a spiritual journey of sorts, with Nikki navigating the music world and tackling questionable health and wellness trends along the way. But while the show is a hilarious take on the over-the-top lifestyle solutions found on sites like Goop, Richie isn't parodying the trends per se—just exaggerating them in a way that'll make you think twice about what you're buying into.
Richie tells HelloGiggles that the idea for the series came from none other than social media. "When I started gardening about seven years ago, I used #NikkiFresh to share my harvests on Instagram," she explains. "People were really into it, so I got the idea to share the magic of gardening through trap music. Then, when I met with Quibi, I thought: People are already watching me on their phones, so why not go straight to the source and make a show about it?"
"Nikki Fresh was my gardening stage name before it was my rap stage name," Richie continues. "But now it has two meanings—kind of like 2 Chainz."
Throughout the show, Richie not only points out the absurdity of some lifestyle fads, she also uses her passion for wellness to make the viewer consider growing a garden or helping to save the bees. The star meets with several real-life consciousness experts—including Bill Nye, who shares her passion for bees—to shed light on topics from crystals to composting. "I hope when people watch this show they are inspired to connect with nature, and realize that we're not above it and we don't rule it. We're a part of it," Richie tells me.
Despite urging people to be more thoughtful about the planet, Nikki Fre$h never loses its silly, quirky tone. "It's definitely categorized as a comedy show," Richie says. "I wanted to bring some laughter and have a sense of humor about it all. I like making people laugh." And with so many of us at home right now due to the coronavirus (COVID-19) pandemic, we could all use some lighthearted entertainment—including Richie, who's currently quarantining with her family.
"At the end of the day, what has been bringing me joy during all of this has been watching comedy, so I was happy to have this show come out right now," she says.
https://www.youtube.com/watch?v=Q3IRvX9UaIk
Each five- to seven-minute long episode of Nikki Fre$h ends with an original music video starring Richie's alter ego. All of the "conscious trap" songs, as Richie calls them, will be available to stream on iTunes and Spotify following each new installment; soon, they'll be released in a comedy album cleverly named Unearthed. You might not have thought of Richie as a musician, but as the songs and videos make clear, she's taking the job seriously.
"Musicians write about what's deep in their souls, what's keeping them up at night, what their passions are. So I thought, great, I'll write songs about my passions," she explains. "For me, those passions are growing food and being one with the universe and your environment."
With the help of some heavy-hitting songwriters—including Sarah Hudson, who has written for pop stars like Katy Perry and Dua Lipa—Richie turned those passions into catchy, educational bops. From an anthem titled "Parent Trap" (with lyrics like "this how mommy rap") to a track called "U.G.L.Y." (about eating less-than-perfect-looking fruits and eliminating food waste), the tongue-in-cheek music is definitely different than anything you'll hear on the radio right now.
From the songs to the videos to the comedy of the show itself, Nikki Fre$h offers the kind of outlandish caricature that almost feels out of place in the "real world." The satirical way that Richie plays the character is not dissimilar from where she got her start: on the iconic early 2000s "reality" show The Simple Life, in which she and co-star Paris Hilton played into wealthy socialite tropes. Looking back, it's clear that the two women were purposefully exaggerating their personas and lack of awareness, but at the time, not every viewer got that message.
"Back then, we knew what we were doing. We were there to entertain," Richie recalls. "It was based on this general concept about the juxtaposition of two girls who were out of their element. Now, there are so many reality shows. I think it's kind of understood that a lot of them are loosely based off of a concept or idea for something, rather than just having the cameras rolling all the time."
After The Simple Life, Richie starred in her own, short-lived VH1 show, Candidly Nicole, which humorously followed her as she navigated adulthood from 2014 to 2015. While Nikki Fre$h may share some similarities with both previous series, the new show is acutely socially aware, with Richie frequently poking fun at herself and at the L.A.-based crazes that arise daily. Through its decidedly catchy tunes, slapstick scenes (like Nikki and her assistant trying to feed "crystal granola" to grocery store shoppers), and hilarious banter (including between Richie and her famous dad, Lionel), Nikki Fre$h manages to successfully unite the star's passion for Mother Earth with the art of hip hop—all in under-10-minute episodes.