Nicole Kidman says she was once engaged to Lenny Kravitz, and how did the world collectively miss this?!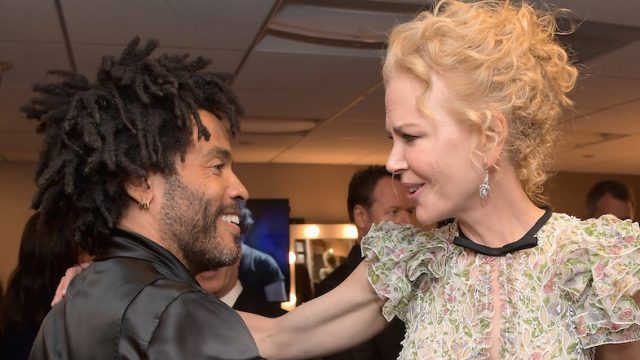 So, we know a lot about Nicole Kidman's relationship history. But between her much-publicized marriage and divorce with Tom Cruise, and her now blissfully happy marriage to Keith Urban, something major fell threw the cracks! In Net-A-Porter's cover story Portrait of an Artist, Kidman casually revealed that there's a special family connection between herself and her Big Little Lies costar Zoë Kravitz. Why, you ask?
"Well, I knew Zoë because I was engaged to her father. It's all in the family!," she told The EDIT. "I love Lenny; he's a great guy."
Yup, she definitely has a thing for musicians. But OMG, how did we not put this together?! Nicole Kidman and Lenny Kravitz…hold on while we process this information in an appropriately calm manner.
Okay, the next burning question on our minds is, why didn't it work out?
Well those details are few and far between, since Kidman is notoriously private. But an interview with Vanity Fair from 2007 did suggest that her desire for closeness in relationships is a reason for her multiple marriages (and lack of just, casually dating guys). "I get engaged and I get married — that's my thing. I don't want to date. I'm interested in a very, very deep connection," she was quoted as saying.
via giphySpeaking about the relationship with the mystery person (who turned out to be Lenny Kravitz, who the media knew she had dated once), Kidman told Vanity Fair in the same interview, "It just wasn't right. I wasn't ready." Fair enough!
Jumping into a relationship, and more importantly, a marriage, is no small thing and it requires a lot of thought from each member. If there's a gut feeling that something isn't right, it's usually the best (and hardest) choice to listen to that inner truth bomb.
We're glad that things worked out for Kidman and her love life! Now…please don't keep any more secrets from us!