Nicole Kidman's 2018 SAG Awards speech is the post-Women's March narrative we need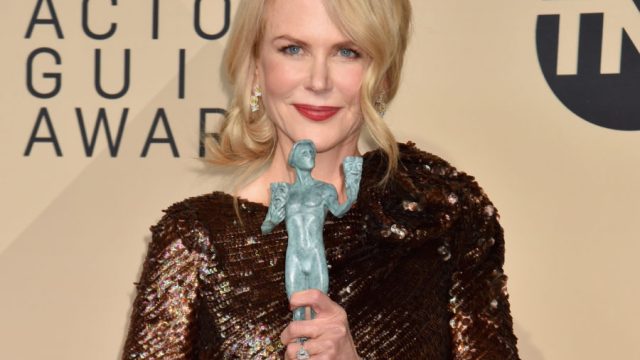 Big Little Lies actor Nicole Kidman took home the award for best female actor in a miniseries at the 2018 SAG Awards, and her acceptance speech was the post-Women's March inspiration we needed. In her powerful speech, Kidman recalled the trailblazing careers of women such as Susan Sarandon and Jessica Lange, and called out Hollywood's ageism of women over 40.
Revering the importance of putting money into women's stories, Kidman said:
"20 years ago, we were pretty washed up by this stage in our lives. That's not the case now. We've proven that … we are potent and powerful and viable. I just beg that the industry stays behind us, because our stories are finally being told.
She added, "We have proven that we can do this, we can continue to do this, but only with the support of this industry and that money and passion.
Kidman won for her illuminating role as Celeste Wright in HBO's Big Little Lies. Kidman's co-star Alexander Skarsgard also won Sunday night for his role as Perry Wright in the HBO series. In stark contrast, Skarsgard delivered a brief, less-formidable speech that joked about Robert De Niro. Given the current climate of sexual abuse in Hollywood and Skarsgard's role as an abusive husband in Big Little Lies, you'd think his acceptance speech would make some mention of the Time's Up movement.
But yeah, a Robert De Niro reference is cool, I guess.