Nicole Kidman used her "Big Little Lies" wins to draw more attention to domestic abuse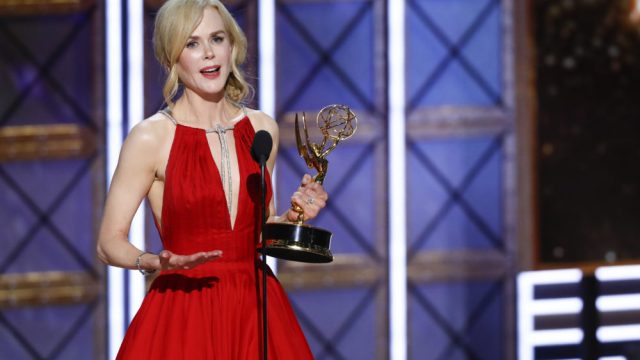 We already owe so much to the cast and crew of Big Little Lies for drawing attention to the issue of domestic abuse. And Nicole Kidman in particular for playing the role of Celeste Wright, a woman who suffers physical and emotional abuse at the hands of her husband, Perry (Alexander Skarsgard).
She also shared a win for Outstanding Limited Series with Reese Witherspoon, David E. Kelley, Jean-Marc Vallée, and more. While accepting her acting award, Kidman gave shoutouts to Witherspoon, Kelley, Vallée, author Liane Moriarty, and her artistic family.
She also thanked her husband, Keith Urban, and their daughters for sacrificing so that she could pursue her career. And she went on to explain that she wants her daughters to understand that there is a huge power in art.
"I want [my daughters] to know that sometimes when you're acting you get a chance to bring a bigger message and this is their contribution and your contribution," she said, pointing to her cast and crew in the crowd. "We shone a light on domestic abuse. It is a complicated, insidious disease. It exists far more than we allow ourselves to know. It is filled with shame and secrecy and by you acknowledging me with this award, it shines a light on it even more. So thank you, thank you, thank you. I bow down to you."
https://www.youtube.com/watch?v=vwu5-GOZSuA
While accepting the limited series award with Witherspoon and much of the creative team, Kidman thanked fans for watching Big Little Lies.
And for discussing the issues presented in it.
"Thank you to the people that embraced this," she said. "The power of television, it has astounded us that we entered into your living rooms and people talked about it. And as much as the show had the entertainment value, it was also about issues."
Witherspoon added, "It's been an incredible year for women on television. Can I just say, bring women to the front of their own stories and make them the hero of their own stories, and thank you for that opportunity and for audiences to wrap their arms around us." https://www.youtube.com/watch?v=w0-G2P3VrME
For our part, we just want to thank Kidman for taking on such a difficult role and exposing people to the horrors that domestic abuse victims suffer. Because the more we know and talk about the issue, the more we can do to make a difference. And thank you to Big Little Lies at large for bringing these complex female characters to our TV screens.