Nicole Kidman and Ewan McGregor revealed that much of *this* famous "Moulin Rouge" scene was actually improvised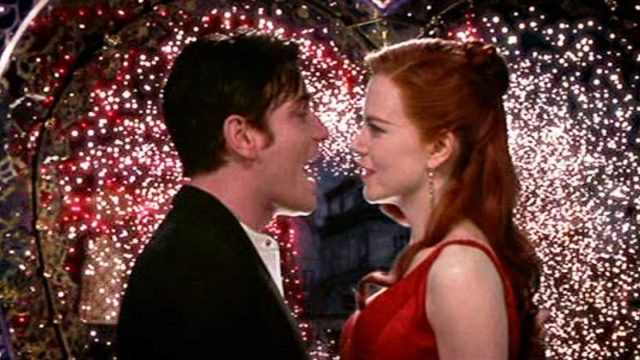 If you can believe it, it's been 16 (!) years since Moulin Rouge was released. And to celebrate this milestone, the movie's stars, Nicole Kidman and Ewan McGregor, got together to reminisce about old times, and to share some secrets about the filming of this iconic movie musical.
For 16 years, we've wanted nothing more than to recreate some of Moulin Rouge's most iconic looks, climb up a giant elephant (that's actually someone's dressing room-slash-bedroom), and start singing Elton John's "Your Song" at the top of our lungs. And while a stage musical version of the movie is *finally* in development (seriously, it's about time), we still have dreams about doing the can-can to "Smells Like Teen Spirit."
https://www.youtube.com/watch?v=2PpgPxjzbkA?feature=oembed
Well, Nicole Kidman and Ewan McGregor recently sat down with Variety Studio for a lengthy interview where they touched on their time working on Baz Luhrmann's musical movie.
The pair remembered going for a two-week workshop before rehearsals for the movie, which, in Nicole's words involved Ewan with "this exquisite voice and me going, 'I'm never going to be able to hit these notes.'" 
The actors recalled how they spent a year of their lives dedicated to working on the movie, fondly remembering time spent at Baz Luhrmann's house workshopping it, and partying, too.
When it came to shooting the movie, there were specific scenes that Ewan remembered most fondly, specifically those filmed on the giant elephant.
"I remember shooting the elephant scenes, because it was so silly and funny," he recalled. "You know all that stuff [with the] poetry and you were wrapped up in the blanket, 'Yes, yes!"
Laughing, Nicole responded that, in fact, much of those moments weren't even in the script at all.
"That just came out of...It wasn't even in the script," she remembered. "[Baz] just developed it."
Indeed, Ewan said that much of working on the film was like that. The actors, he said, would work on a scene in a workshop, and "then a week later we'd come back and the work we'd done on it as actors would have been incorporated in the writing."
"That never happens," he said. "That's very rare." 
https://www.youtube.com/watch?v=GYIdXc-FZ64?feature=oembed
Tbh, watching those scenes in the elephant, specifically Ewan's rendition of "Your Song" and the sublime "Elephant Love Medley," you can see how much fun both Nicole and Ewan are having, so it totally makes sense that parts of those scenes would have come from them or have been made up on the spot.
https://www.youtube.com/watch?v=2z4akU0tPNg?feature=oembed
You can check out the whole 30-minute Variety Studio conversation between Nicole Kidman and Ewan McGregor on YouTube.
Now we totally know what we're doing this weekend: movie screening of Moulin Rouge.