Nicole Kidman was so excited for Alexander Skarsgard's Emmy win that she literally kissed him on the mouth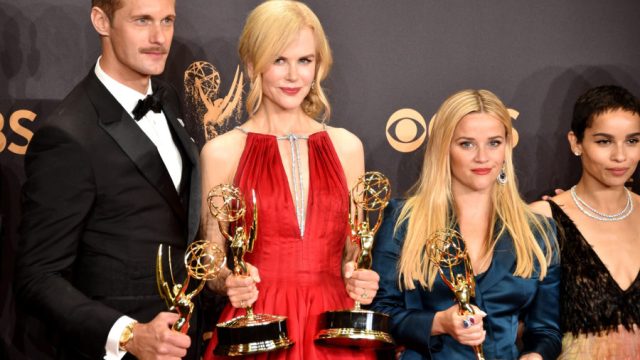 The stars of HBO's hit miniseries Big Little Lies had plenty to celebrate at this year's Emmy awards, especially since Laura Dern, Alexander Skarsgard, and Nicole Kidman won Emmys for their respective roles in the critically-acclaimed first season of the show.
It was definitely a big little night for the show's cast and crew, and we're honestly all about what happened when Alexander went up to accept his Emmy win for Outstanding Supporting Actor in a Limited Series or Movie. Let's just say Kidman, his onscreen wife, was very supportive.
When Alexander's name was announced as the winner, he graciously smooched both Laura and Nicole on his way up, and Nicole planted her kiss right on the lips. As one does? Maybe? Whatever — we're into it.
https://www.youtube.com/watch?v=svRyZk3Qt0g?feature=oembed
Alexander begins to make his way to the stage, and he kisses Laura on the cheek. Then he goes to greet Nicole, and they share an adorable yet slightly awkward kiss on the mouth.
Did he mean to kiss her on the cheek and in the excitement of the moment landed on her lips? Or are they just super close friends and costars that think nothing of sharing a sweet little smooch? After all, actors are pretty emotional people.
Of course, the kiss itself was NBD, because Nicole's husband Keith Urban was her doting date for the night (and right next to her when it happened), so we're just going to chalk it up to an innocent peck between two pals that are understandably thrilled for each other.
Skarsgard was sure to thank his mostly female cast and crew when he accepted his very first Emmy, saying: "To the ladies, thank you for making this boy feel like one of the girls," also thanking the "incredible women" in his life.
Congrats to the entire Big Little Lies crew for their Emmy wins, and we cannot wait to hear more about plans for a second season! Fingers crossed.