Nailed It! host Nicole Byer called out this one sexist thing you never noticed about Netflix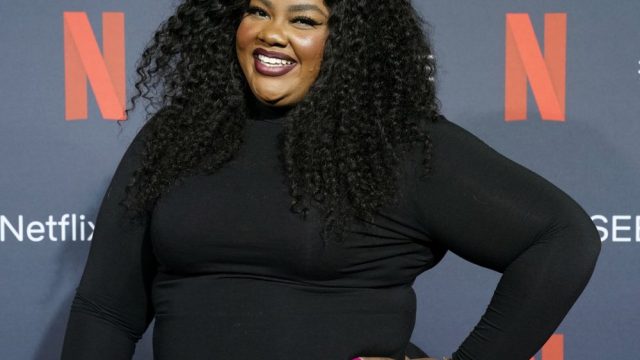 Anyone who has ever watched Netflix's Nailed It! knows that the baking show is a hilarious nod to struggling in the kitchen. Watching amateur bakers' disastrous attempts at recreating recipes is funny on its own. But host Nicole Byer makes the show even better, and we couldn't imagine Nailed It! without her. So when a fan noticed that she wasn't in one of the show's thumbnail images on Netflix, Byer was rightfully upset.
E! News reports thaton May 28th, a Twitter user shared a screenshot of the Netflix thumbnail image for the series. It featured head judge Jacques Torres and director Weston Behr—two white men. Byer, however, was absent from the picture. The tweet has since been deleted. But according to E! News, the user expressed disappointment, writing "@nicolebyer IS NAILED IT!"
Byer then noticed the image and called it "disrespectful." In a since-deleted series of tweets, E! Online reports that she wrote:
"If Netflix didn't sign my checks and give me a huge platform and opportunity to showcase my comedy. I would talk about how f--ked up and disrespectful this is to me a black woman. Also how black women are a lot of times erased from many different conversations. I would talk about how it makes me know my true value as the host of the show where I work incredibly hard to elevate the material given to me. Lot of moments people love are improvised. I would talk about how this essentially white washing for more views. But they sign my checks and I'm honestly so happy and greatful [sic] to and for the show and no sarcasm I love my job and wish to keep it so I'll be quiet. To be clear. I know there are thumbnails with and without my face... This one just seems for lack of a better word deliberate. Again I love my job."
Thankfully, it seems like the Netflix team listened to Byer's complaints.
Today, May 29th, Byer tweeted that she spoke with one of the Nailed It! executives and that the thumbnail image without her was taken down.
Vox notes that Netflix's thumbnail images are tailored to appeal to individual users. The streaming site uses an algorithm to pull photos from each episode to serve as potential thumbnails, and what you see depends on factors like region and your favorite genres. But even taking all of that into consideration, it seems like a huge gaffe that a Nailed It! thumbnail wouldn't feature Byer. We're glad she spoke up and managed to get the thumbnail changed, and we hope that this doesn't happen again on a platform that reaches and influences so many.