Nicole Beharie is speaking out about being labeled "problematic" amid Sleepy Hollow exit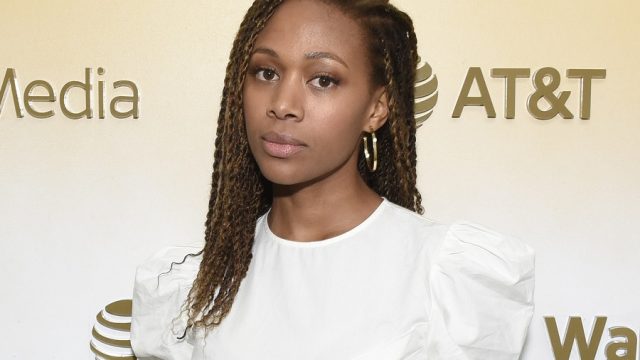 This story has been updated to include a response from Disney.
When Nicole Beharie's Sleepy Hollow character, Abbie Mills, was killed off at the end of Season 3, it was a twist, but it wasn't totally surprising. Fans of the show had been saying #AbbieDeservesBetter since the second season knocked her lead character down a notch and frustrations were growing about the show's storylines. Now, Beharie has explained more in-depth what happened when she left the series in 2016 and how she feels about everything that went down.
"What happened on Sleepy Hollow is really interesting," Beharie told The Los Angeles Times in a June 19th interview. "We had a lot of things happen that paralleled the conversations that are happening in this moment."
The actor pointed out the experiences she and her co-star, Tom Mison, had when they both got sick. "He was allowed to go back to England for a month [to recover while] I was given Episode 9 to shoot on my own," she said. "So I pushed through it and then by the end of that episode I was in urgent care. And all the doctors, including the doctors that the studio was sending, were all confirming, 'Hey, she can't work right now.'"
Beharie was diagnosed with an autoimmune disorder, which she says she now no longer registers as having. The 35-year-old considered this the reason she was let go from the series, but she is looking at things differently now. "I feel like it's taken me the last few years to really see clearly that it wasn't personal, it's about the way that these structures are set up," she told the LA Times.
"It was very difficult to talk about at the time because I wanted to get back to work. But I was labeled as problematic and blacklisted by some people," Beharie said.
The actor also spoke with The New York Times recently and said of her experience working on the show and being sick, "I never wanted to talk about this until the resentment and bitterness was out of my system…Sometimes I think that some people I was working with didn't like that I was unwell but loved by the audience. I would think they'd support that. But everyone of color on that show was seen as expendable and eventually let go."
At the time of the Sleepy Hollow Season 3 finale, sources told The Hollywood Reporter that Beharie had wanted to leave the series for a while. In an interview with TV Insider after the finale, showrunner Clifton Campbell said, "Well, it seems on a show like this—and particularly, genre [shows]—you've got to find ways to evolve shows, not just the characters. We've all thoroughly enjoyed working with Nicole. She has created a remarkable character who is complex, intelligent, and insightful; and was the perfect complement to Tom Mison's Ichabod Crane."
https://twitter.com/udfredirect/status/1274028023751172097
When HelloGiggles reached out for comment about Beharie's remarks on leaving the Fox show, Disney replied that it had no comment at this time.
Beharie's moved on from her Sleepy Hollow ending now. She's starring in the newly released film Miss Juneteeth and working on writing. She recognizes in the Los Angeles Times interview that navigating Hollywood is different for everyone and always comes with issues.
"My particular walk is colored by a number of different things," she explained. "And yeah, it has been challenging. I am reconciling what it means to be an actor and an artist and a woman of color. The consequences of making a mistake or causing a ripple in the water are greater. And ultimately, nobody wants to be [deemed] trouble." Still, she's feeling more positive now. "I feel like I, and the world as a whole, are in a different place now and I'm happy about that."
Lia Beck is a writer living in Richmond, Virginia. In addition to Best Life, she has written for Refinery29, Bustle, Hello Giggles, InStyle, and more.
Read more