Nicki Minaj's Billboard Music Awards performance might be her hottest ever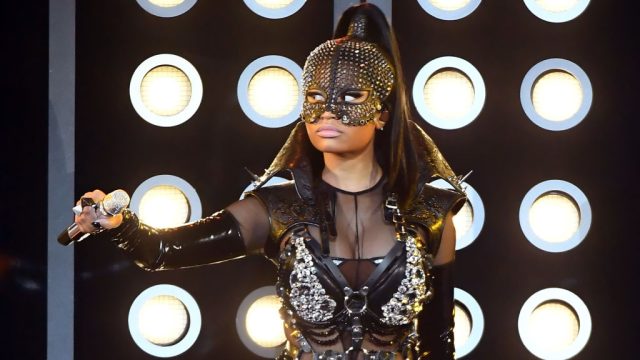 If you weren't already convinced that Nicki Minaj is the current queen of hip hop, there's a little performance you should watch. Seriously, all it will take is a few views of Nicki Minaj's Billboard Music Awards performance to convince the haters. It was nine minutes of perfection, according to Twitter at least. In addition to winning the fan-voted Billboard Chart Achievement category last night, Minaj kicked off the show with a medley of all her hits, coming out on stage in a sparkly jumpsuit, rapping to her song "No Frauds," which is largely a diss track targeted at Remy Ma.
Lil Wayne then came out and helped her go into their new single with David Guetta, "Light Up My Body." That alone would have been a performance to tweet about, but the medley kept on. Jason Derulo joined her on stage for "Swalla" and then she finished with other hits like "Regret Your Tears," "Light Up My Body," "Beez in the Trap," "Starships," "Anaconda," "Super Bass," and "Moment 4 Lyfe."
Yea, it was like that.
Even Drake was eating it up in the crowd, putting any bad blood between Minaj and her ex, Meek Mill, behind them.
Twitter went crazy for Nicki Minaj's Billboard Music Awards performance.
false
Her performance wasn't the only thing that had people talking on Sunday night. When Drake took the stage to accept the Top Billboard 200 award, he called out host Vanessa Hudgons.
He said, "you look incredible tonight," but the camera panned to Minaj in the crowd, saying, "What about me?" It was the perfect meme for the night.
https://twitter.com/udfredirect/status/866462588988772357
Drizzy knew better than to leave her out, though. He called out his friend and collaborator in his speech.
"Nicki Minaj, I'm so glad we found our way back because I love you, and I could never ever ever see it any other way."
From the crowd, Nicki said "I love you" right back. And that wasn't all — her opening performance must have really got to Drake. Later, he called her the "love of his life" in another speech. We're all for Nicki and Drake's love, but we're a little concerned that Rihanna might hear that all the way from the Cannes film festival.
Although she probably would have been all about Nicki's opening performance. false
Not only is she a fan fave, but Nicki also beat out Aretha Franklin this year for the most Billboard Hot 100 hits. It's safe to say she's at the top of her game.