Nicki Minaj sends her love to Ariana Grande, says that she won't "operate in fear" following the tragic events in Manchester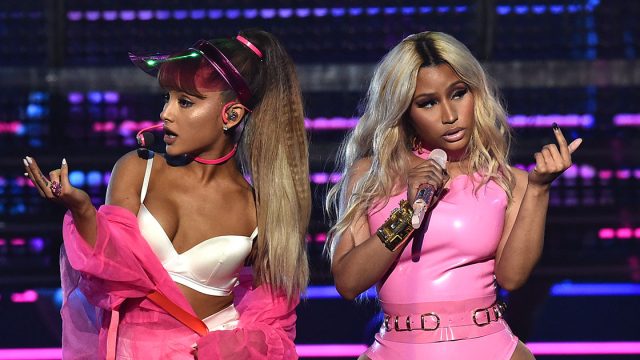 In a defiant and inspirational move, Nicki Minaj says that she won't "operate in fear" following the tragedy in Manchester and sent her love to her sister Ariana Grande.
Minaj's words come after the devastating events on Monday when a suicide bomber killed 22 people following Ariana Grande's concert in Manchester, England. Understandably, the singer has cancelled some dates of her ongoing "Dangerous Woman World Tour," with a statement noting that, "our way of life has once again been threatened, but we will overcome this together." 
"Due to the tragic events in Manchester, the Dangerous Woman tour with Ariana Grande has been suspended until we can further assess the situation and pay our proper respects to those lost," the statement explained.
Now Nicki Minaj has spoken of her support and love for Ariana, also noting that she won't bow to the threats of terrorism.
Minaj, who has worked with Ariana on the tracks "Side to Side" and "Get On Your Knees," was quizzed by a TMZ reporter while on her way into the airport whether she would cancel any concerts in light of the devastating attacks.
"No," she responded, "because we don't operate in fear. Nope."
Continuing, Minaj agreed with the reporter that it would send the message "that they win." 
The singer, rapper, and entrepreneur also said that when she tours next year, she has no plans to miss out on performing in Manchester.
"Of course I'm going to perform for my Manchester fans," she said. "They deserve it." 
https://www.youtube.com/watch?v=DtybO0MfKg8?feature=oembed
Minaj also sent her love to Grande, whom she called her sister, noting, "I love her, and I love the people of the U.K., and I'm devastated by the news. It's heartbreaking." 
In a tweet, the 34-year-old sent her thoughts to her fellow performer, as well as the victims of the attack.
"My heart hurts for my sister, Ariana & every family affected by this tragic event in the U.K. Innocent lives lost," she wrote. "I'm so sorry to hear this."
Nicki Minaj's comments come after people all over the world paid tribute to the people who lost their lives, sent their thoughts to the loved ones of those affected, and shared their love to Ariana Grande and her team.