Nicki Minaj moved her album release to the same date as Ariana Grande's, but not for a shady reason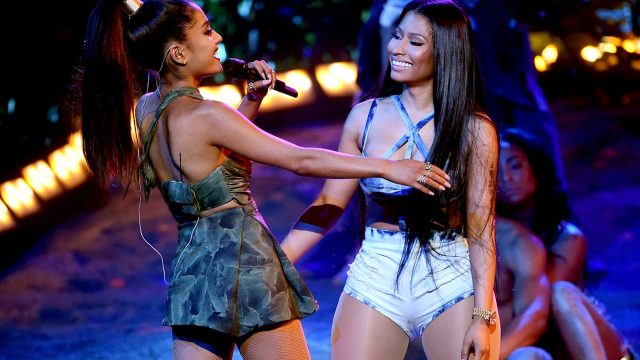 What happens when two of your favorite artists release new albums on the same day? You support them both, of course. But some people don't think that's possible. Nicki Minaj recently moved her album release date for Queen to the same day as Ariana Grande's Sweetener, and fans of Grande are worried that it's going to have a negative impact on their hero's numbers. But according to the newly engaged singer herself, that's not even a concern.
As Billboard pointed out, Minaj let fans in on the news on Wednesday, August 1st, writing a letter on her Apple Music Playlist Takeover that explained that her album would now be coming out on August 17th. Of course, that's the same day Sweetener drops, and people have been all over Twitter stressing that she choose to share a release date with Grande.
But Grande and Minaj cleared things up, saying firmly that there's nothing to worry about here: Minaj isn't trying to be shady, and these ladies are still on great terms.
As soon as Grande caught wind of the chatter on Twitter, she shared a tweet of her own to let everybody know she wasn't going to tolerate any negativity being aimed at her friend. She tweeted:
https://twitter.com/udfredirect/status/1024718795221422088
Later, she added, "Me n Nicki laughed at dat."
https://twitter.com/udfredirect/status/1024721265569947648
Minaj herself also spoke out on the topic, promising fans that both of the albums are going to be worth it—but then again, was there ever any doubt? This is Grande and Minaj we're talking about.
It's a little silly to pin these two talented, strong women against each other, especially since they're close friends. We can all obsess over two albums at once, so can we all just agree that now that Minaj has moved her release date, August 17th has officially become an awesome day for music? We're already counting down the days.