Nicki Minaj just broke this incredible chart record, and we couldn't be prouder of her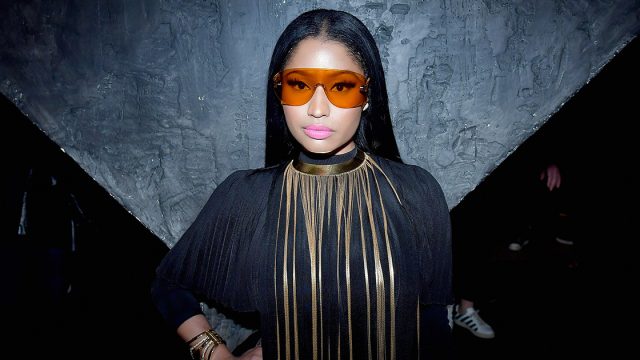 We love celebrating all women, and so when it was revealed that Nicki Minaj had just broken a HUGE chart record we thought it was time to roll out the red carpet, get out the balloons, and celebrate her absolute SLAYAGE!
Nicki Minaj has had tumultuous few weeks. The singer and rapper had her mansion robbed, and it sounds scary as hell. What's more, she became embroiled in a feud with fellow rapper Remy Ma, before releasing not one, but THREE, new singles, "No Frauds" Ft. Drake and Lil Wayne, "Changed It" Ft. Lil Wayne, and "Regret In Your Tears." https://www.youtube.com/watch?v=Rd3gnq9QL-U
Now it's been revealed that Nicki Minaj has broken the record for the most amount of Billboard Hot 100 hits out of any other female artist.
Minaj recently took the crown from soul legend Aretha Franklin. The pair were tied with 73 entries each, but it seems that with the release of three new songs, "No Frauds," "Regret In Your Tears," and "Changed It" (which landed at No. 14, 61, and 71, respectively), Nicki Minaj has increased her lead to 76 entries.
As our friends Entertainment Weekly note, Aretha Franklin still holds the most amount of Billboard Hot 100 hits for the lead artist. Out of Nicki's 76 hits, 32 are as the lead artist with 44 seeing the star take the feature role.
Out of all of Nicki Minaj's songs to grace the Billboard Hot 100, the singer's track "Anaconda" is currently her highest charting, landing at No. 2 back in 2014.
https://www.youtube.com/watch?v=LDZX4ooRsWs?feature=oembed
After the news was announced, Minaj took to Instagram to where she thanked God and her fans for their support.
"Man, I tell ya... God said he ain't done showing off yet. Lol. Walked off stage to find out history was made yet again today. #NoFrauds #RegretInYourTears + #ChangedIt charted this week on Billboard & I now hold the title of most Hot 100 entries in the HISTORY of BILLBOARD among women of EVERY genre," she wrote. "To my fans: I fkn love u guys more than I'll ever be able to put in words. Thank u so much for your unwavering love & support. God bless each & every one of you. To God be the glory. #YoungMoney #NickiInLONDON Island girl from South Side Jamaica, QUEENS!!!! NEW YORK CITY!!!!! 👅Rrraaaahhhhhhhh!!!!!!!
Nicki Minaj is expected to drop her fourth yet-to-be-titled album later this year. We're sending you all our congratulations on this truly well deserved feat!