Nicki Minaj made a move on Michael B. Jordan at the People's Choice Awards, and Twitter lost it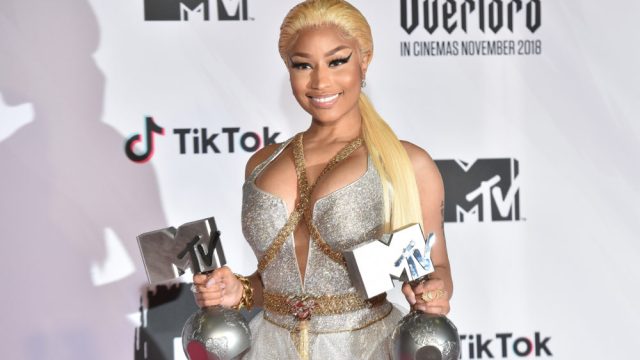 Last night, Sunday, November 11th, Nicki Minaj cleaned house at the 2018 People's Choice Awards. She took home the trophies for both Best Female Artist and Best Album. But Minaj really brought down the house with her comment about actor Michael B. Jordan. Seriously, it was a show-stopper.
After accepting the Best Female Artist award from Jimmy Fallon, Minaj took a moment to thank her management team, her fans, and everyone who helped bring her album, Queen, to life.
"Shout-out to Donatella Versace for custom-making this outfit for me," Minaj said. "And shout-out to Michael B. Jordan because he's going to be taking it off of me tonight."
FIRE!!
Viewers unfortunately didn't get to see the Black Panther star's reaction to the shout-out because he was reportedly in New York City. However, we think Fallon's freak-out in the background just about says it all (slash, is all of us). And, of course, half of the Twittersphere is now currently shipping Minaj and Jordan. The other half is questioning what on Earth just happened. false
false false
Many are wondering, "Was…was that allowed?"
false
The world is clearly divided over the matter, and honestly, it's a lot to take in. Jordan has yet to respond to Minaj's comment, but we're pretty curious to hear his thoughts.