Nicki Minaj Shared the First Photos of Her Baby Boy and He Already Has His Own Bling
She also thanked Papa Bear for choosing her. Aww!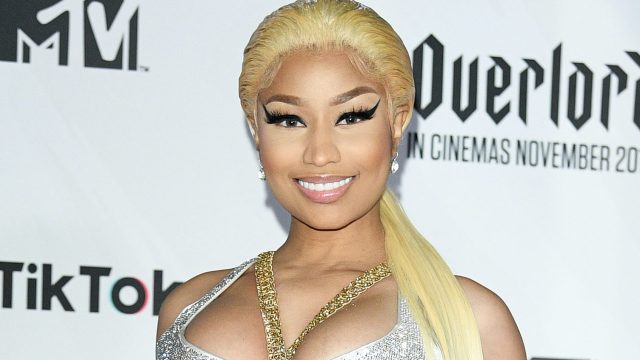 Though new mom Nicki Minaj has been super open with fans about motherhood on Twitter, the rapper decided to keep pics of her baby (whom she calls Papa Bear on social media) offline during the first few months of his life. Minaj and her husband Kenneth Petty welcomed their son in September, and Minaj just shared the first photos of Papa Bear on Instagram. The little one is basically a mini-me of mom—and he even has his own personalized bling.
"#PapaBear thank you so very much for choosing me to be your mama ???," Minaj wrote in the caption of her January 1st Instagram post. "Wishing you guys a happy & prosperous New Year. Thank you for your love & support throughout this journey. It's meant so much to me."
She continued, Becoming a mom is by far the most fulfilling job I've ever taken on. Sending love to all the superhero mothers out there. Big hugs to all the women who have been pregnant during this challenging time.
"OMG, a beautiful prince, he's so cute nicki," the "Chun Li" rapper's number one fan Sophia Grace (made famous by Ellen DeGeneres) commented. Diddy added the praying hands emoji.
Another fan commented, Barbie and Ken did that!!! Literally looks like both of y'all. And someone else wrote, Those cheeks, with heart-eyes emojis.
On December 30th, Minaj held a Twitter Q&A session with fans regarding her labor experience and new motherhood. She said she realized she was pregnant when she found herself craving the smell of bleach, and that Petty was much more scared of her going into labor than she was. "I was laughing @ him," Minaj wrote.
And as for Papa Bear, Minaj says he has always had quite the personality. "He used to kick me so hard every night at the same time if I didn't get up & walk with him," she wrote on the 30th. "He had a full personality in my tummy & knew how to get his way. It was so intriguing to me. He does the same thing now."
Just by looking at those cheeks and those outfits alone, we can tell Papa Bear's personality isn't about to quit. Hopefully Minaj's first Instagram post of 2021 is a good sign of more Papa Bear content to come in the New Year.