Nicki Minaj just spoke out about double standards and nude selfies and we applaud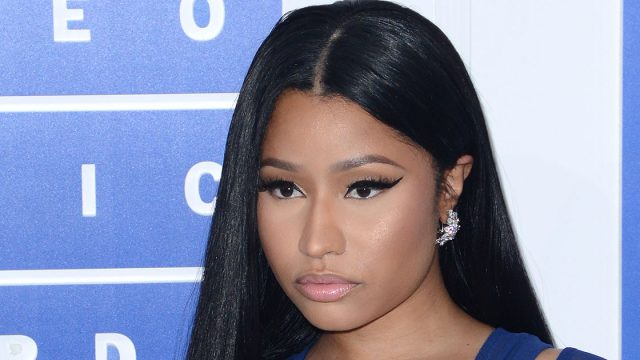 Nicki Minaj is one of the most complex people in music, and that's a good thing.
The rapper, singer, entrepreneur, and TV producer is constantly doing things to play around with conventions. Whether she's trolling her own fans with a "surprise" album release or calling out sexism in interviews, the New York born star keeps you on your toes and we totally love her for it.
This month Nicki is appearing on the cover if Marie Claire and she looks STUNNING.
This wouldn't be a Nicki Minaj interview, however, if she didn't have some totally brilliant points to make and this is no different.
Opening up to journalist and author Janet Mock, Nicki spoke about many things, including advice about whether marriage is the most important thing for women, and women's goals.
One thing that Nicki spoke about was the double standards when it comes to nudity and nude selfies and, tbh, we applaud it.
Discussing the differences between about the way that different women are viewed by the media, Nicki had this important thing to say.
"When Kim Kardashian's naked picture came out, [Sharon Osbourne] praised it, and my fans attacked her for being such a hypocrite," she said. " So it wasn't trashy and raunchy when a white woman did it, but it was when a black woman did it? "It's quite pathetic and sad, but that is my reality, and I've gotten accustomed to just shutting it down."
We really applaud Nicki for talking about this double standard.
If you can recall, there was LOADS of controversy when Nicki's "Anaconda" video dropped. Indeed, Mrs. Osbourne said on the talk that she felt the video looked like.
"That looks like a cheap porno cover of a DVD," she said on The Talk. "I love women's bodies. I love nudity, but that is cheap."
Similarly, Nicki has previously spoken out about the double standards when it came to the nominations for the MTV VMAs last year when "Anaconda" didn't get nominated for Video of the Year and "Miley, what's good?"
"The fact that you feel upset about me speaking on something that affects black women makes me feel like you have some big balls," Nicki said to the New York Times, referring to the incident with Miley Cyrus. "You're in videos with black men, and you're bringing out black women on your stages, but you don't want to know how black women feel about something that's so important? Come on, you can't want the good without the bad. If you want to enjoy our culture and our lifestyle, bond with us, dance with us, have fun with us, twerk with us, rap with us, then you should also want to know what affects us, what is bothering us, what we feel is unfair to us. You shouldn't not want to know that," she said.
Nicki also opened up to Marie Claire about the violence that is gripping the country.
Like Beyoncé did with her movie Lemonade, Nicki said that it was important to remember the black women who are mourning the loss of their husbands, fathers, and brothers.
"We tend to not remember the black women who are mourning these men and who are thinking, 'Oh, my God, what am I going to tell my child now about where his father is,' and the struggle it is for black women to then move on after they lose their husband or their boyfriend," she said. "The strong women in these inner cities often go unnoticed ... no one really ever puts a hand out to them."
We love that Nicki is speaking out about these issues, and is giving a voice to important things that affect black women. We absolutely adore her, and couldn't love her more.