New Mom Nicki Minaj Said Breastfeeding Is Way More Painful Than She Expected
The rapper opened up about her pregnancy, labor, and delivery, too.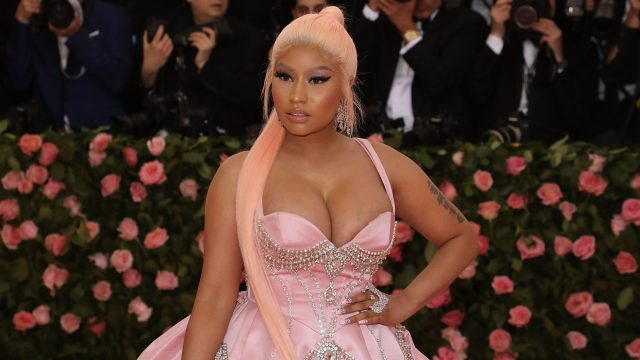 After sharing that she'd welcomed her first baby back in September, Nicki Minaj is opening up about the struggles she's faced when it comes to breastfeeding. The newly minted mom-of-one blessed fans with a Twitter Q&A session on Wednesday, December 30th, opening up about how "painful" she has found breastfeeding in her baby's early weeks.
A fan asked Minaj what her experience was like during her first time breastfeeding, and she got candid about the fact that even though her little one latched on easily, she finds nursing and pumping to be "very painful." She shared, "He had no problem breastfeeding. He latched on in the hospital which was very surprising to me. I was afraid maybe he wouldn't. But breastfeeding is very painful. Pumping is too. Women make this stuff look way too easy. Moms r really superheroes."
Minaj's candor about the topic is surely much appreciated by fellow new parents and those who have experienced challenges during breastfeeding, because too many end up struggling in silence thanks to stigmas and judgments passed on new mamas.
While it's a bummer to hear that she has found it painful, she's right—all moms and new parents, including Minaj, really are superheroes.
The rapper also answered questions about other aspects of her life as a new mom, opening up about her pregnancy and giving birth. She says she knew she was pregnant when she found herself "craving the smell of bleach," and that her baby was very active with "a full personality in [her] tummy and knew how to get his way."
As for how she knew she was in labor, she shared that she was "butt naked" after coming out of the shower, when she felt her water break and calmly explained to her husband, Kenneth Petty, that she was in labor. Apparently, he was "very scared"—truly relatable, tbh.
And in opening up about her birth experience, Minaj shared that she had a "natural vaginal birth w/epidural," adding, "I pushed for 2 1/2 hours. Only b/c first the epidural didn't wear off enough for me to feel myself pushing. Once I was able to feel the pain I pushed him on out."
We're grateful to her for sharing so openly about her experiences, because it's sure to help expecting parents and new parents feel a little less alone in what they might be going through, too.