Nicki Minaj hung out with DJ Khaled's son Asahd again, and the photos are the cutest thing you'll see today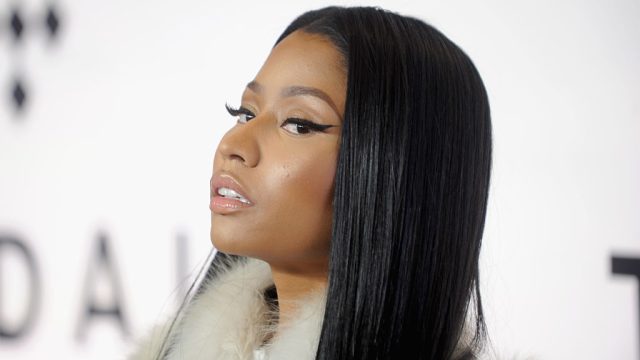 Why didn't we get an invite to this hangout? Once again, Nicki Minaj hung out with DJ Kahled's son Asahd. And the photos are even more adorable than the last time they hung out.
On Friday, nine-month-old Asahd stopped by to visit Minaj and deliver a framed platinum record. (Oh, and yes, DJ Khaled was there, too.) The gift was to honor Minaj's guest performance on Asahd's dad's hit "Do You Mind."
Naturally, they had to take a quick photoshoot.
"Look @ aunty's big boy!!!!! a very excited Minaj wrote on Instagram. "This little angel came bearing gifts. PLATINUM PLAQUE ALERT!!!!!
They also got some quality goofy time in, using a rabbit filter with a voice changer.
"I'm so obsessed with him, she wrote. "Cuteness overload, I can't take it!!!
We completely agree.
Asahd shared his own pic, too.
Turns out, Asahd and Minaj go way back to just a few months after he was born. The singer was one of the first people to visit the newborn back in November, solidifying her unofficial aunt status.
In a caption on Instagram, DJ Khaled wrote, "ICONS HANG WIT ICONS ! ICON ALERT!
Major key.
Asahd has been in the spotlight since day one. (Lest we forget  DJ Kahled livestreamed the birth on Snapchat while playing his own songs.) Asahd has already made a number of celebrity friends. At not even a year old, he's already hung out with the likes of Zac Efron, Kelly Ripa, and Ryan Seacrest.
He even has his own Instagram account! It's definitely run by DJ Khaled, but it's worth a follow so you can keep up with the busy life of this nine-month-old. His recent posts including photos showing him swimming with dolphins with his mom, decked out in Supreme gear, and wearing matching suits with Gucci Mane.
But we all know Minaj is his number one. Talk about the coolest aunt in town.