Nicki Minaj and Ariana Grande posted a teaser for their upcoming "Bed" music video, and yes, there are bubbles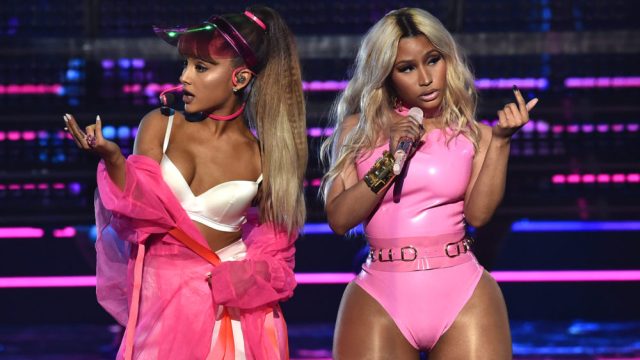 Praise be summer 2018! Nicki Minaj and Ariana Grande released their latest collaboration, "Bed," on June 14th, and less than 24 hours later, the song reached #1 on the U.S. iTunes sales chart (and according to Minaj's social media accounts, it's reached #1 in several other countries as well). And we can't say we're surprised.
To make things even more exciting, Minaj and Grande posted a teaser for the upcoming "Bed" music video the same day. And in case you were wondering, yes, there are lots of bubbles.
The latest surprise collab was announced on June 12th, with both Minaj and Grande posting adorable pics on Instagram of themselves hugging in a pool. Minaj announced that "Bed" is a single on her upcoming album Queen, which will be released on August 10th.
The teaser for the music video shows Minaj and Grande dancing in a pool full of  bubbles, intermixed with images of a gorgeous tropical beach. And better still? The clip is completely un-retouched, meaning we're getting the stars in their realest state.
"You know the love is real when u send ARIANA fkng GRANDE an UNRETOUCHED #Bed snippet & she gives you the green 💡to post it. Ugh!!!!!" Minaj posted to Instagram on June 14th.
As much as we love both the single and the video teaser, the best thing about all this is how much Minaj and Grande seem to genuinely love working with each other. "Thank you @arianagrande for being one of the realest chicks I've had the pleasure of meeting in this industry," Minaj wrote in another Insta post. And in Grande's tweet about the teaser, she wrote, "i love you so f-cking much til the end of time @nickiminaj 'Bed' is out now and you're getting a video too bye."
https://twitter.com/udfredirect/status/1007338078422425600
Before releasing the teaser, Minaj also took to Twitter to gush about Grande. She wrote about how she had been working on "Bed" for over a year before she had the idea to include the former Disney star — and once she did, she said that Grande "added all these beautiful harmonies & runs. Never over does it. Just ALWAYS gets it right. I fell in love. I called her screaming."
We're not-so-patiently awaiting the release of the full "Bed" music video — let's hope we don't have to wait too long!