Nickelodeon just released a 5-minute peek at the Double Dare reboot — which premieres tonight!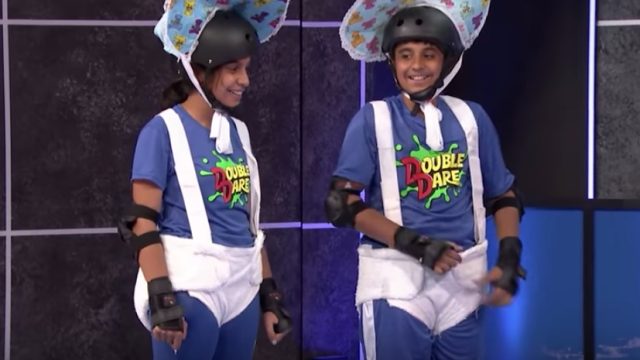 Any true '90s kid will remember racing home after school to watch Nickelodeon's Double Dare. The game show had everything: slime, a giant nose, and even a sundae slide. And we've got some tremendous news, people — Double Dare is coming back for a 40-episode reboot starting Monday, June 25th, and they just released a five-minute sneak peek of the premiere.
According to the AV Club, YouTuber and actress Liza Koshy will host the reboot, with original host Marc Summers providing backup in the form of commentary. Photos of the pre-slimed set posted to Nickelodeon's website feature many of the challenges we know and love, from the iconic big nose to the giant hamster wheel.
There will also be some familiar faces. Uproxx reported that Kenan Thompson and Kel Mitchell (aka the stars of Kenan & Kel) will compete in a special episode later this summer, which we hope will include lots of orange soda.
TVLine reported that, like the original series, the Double Dare reboot will feature a mix of trivia and physical challenges — all performed by teams in color-coordinated outfits. In addition to familiar challenges, the reboot will also introduce new obstacles, like a tube full of slime called the Tube-a-Totter and a teddy bear called Overstuffed.
"What we have now is a situation where — maybe for the first time in Nickelodeon's history — parents who grew up watching Nickelodeon programming have kids the same age they were when they started watching Nickelodeon," Summers told TVLine. "And I think it is a bonding and sharing experience."
Check out the sneak peek below.
https://www.youtube.com/watch?v=9a8VG5rMkqM?feature=oembed
The new Double Dare will air at 8 p.m. ET on Nickelodeon. Now excuse us while we dust off our goggles.