Nick Viall and Vanessa Grimaldi got real about their early relationship struggles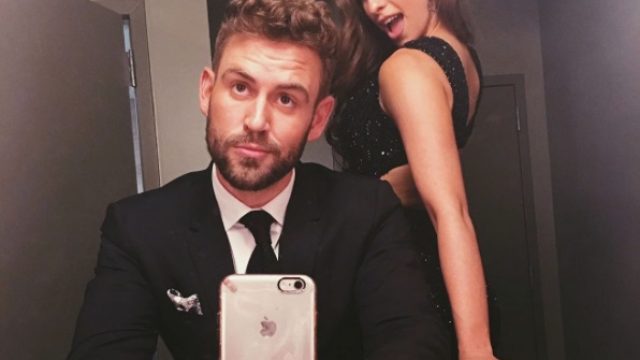 If you're a member of Bachelor Nation, then you're well aware of what went down on last night's Bachelor finale. Nick said goodbye to Raven, and gave his heart to Vanessa.
But the story doesn't end there.
The new couple have been dating off-camera for several months now (you know — in the non-mansion real world), and Nick and Vanessa discussed their current relationship struggles during the After the Final Rose special last night.
Now don't be alarmed — it sounds like things are going strong. It's just, they're a real-life couple, and thusly, they encounter real-life problems.
According to Grimaldi, the couple have a "very open relationship in terms of communication." She added that they're always honest with each other, but it can be stressful when pesky things like geography get in the way (Grimaldi is Canadian and Viall is based in L.A.).
It's important to maintain optimism though, and Grimaldi did.
"You know, we live in two different countries, [and we're] starting a relationship where you don't get the chance to see each other every day and do normal things. When we do see each other, it's in a house. I love him, we love each other, but there are days that have been difficult."
Yup, we totally get that. Relationships are hard enough when geography isn't a factor.
via giphyShe said they're a "team" who try to work things out together, even though she sometimes wants Viall to be more empathetic of her feelings. Viall reiterated that point, and they seem to be on the same wavelength.
"I'm a realist, right?" Nick said, "I think Vanessa and I continue to be that. As Vanessa mentioned, there's been those moments. We've had our struggles, but we're good communicators, and we talk. But we do try to be that team."
Both Viall and Grimaldi know that there are challenges ahead, but they're excited for everything that's coming their way. As far as a wedding date and all that official stuff, they're taking things slow. Developing a strong foundation for the relationship is the most important thing, after all. Everything else will fall into place!
Wishing the happy couple the best of luck as they move forward with their relationship!