Nick Offerman wrote a book that includes an erotic cartoon of Chris Pratt, so Merry Christmas to us all
You might know him best as Ron Swanson, but we know him as our ultimate hero. During an appearance on Conan, Nick Offerman promoted his book, featuring Chris Pratt. Now, it's a cartoon version, and it's unclear as to whether or not Pratt knew that he'd play a role in the story, but — well — here we are.
As you know, Pratt and Offerman co-starred in Parks and Recreation, typically seen as one of the strongest comedies of our generation. The show wrapped up in 2015 (even though it seems way longer than that) so it's so sweet to know that the Pawnee gang still thinks of each other.
Even if it might be in, uh. Homoerotic ways. Watch and see.
https://www.youtube.com/watch?v=ZySpn0Aj09k?feature=oembed
Good Clean Fun is focused a lot on woodworking. But, knowing Offerman, there's a bit of sexy humor in there, too.
Offerman states that his friend Ethan Nicolle, who draws the fun show Axe Cop, included the spontaneous "adventure" in the book, which Offerman noted that you could find in the middle of the book. (You know, in case you want to skip ahead to the really good stuff.)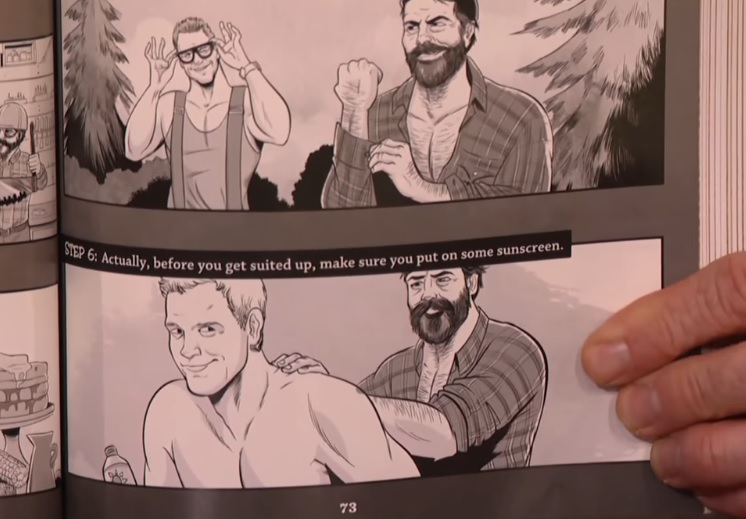 "Listen... If you're going to be in the woods, messing around with tools, you don't want to get sunburn," Offerman said.
So, now we know what we're getting our friends this holiday season. You can buy a copy of Good Clean Fun on Amazon for about $25. From what we now know, it's well worth the cost.