Nick Offerman, John Legend, and Abbi Jacobson discussed their worst dates ever, one of which involved puppets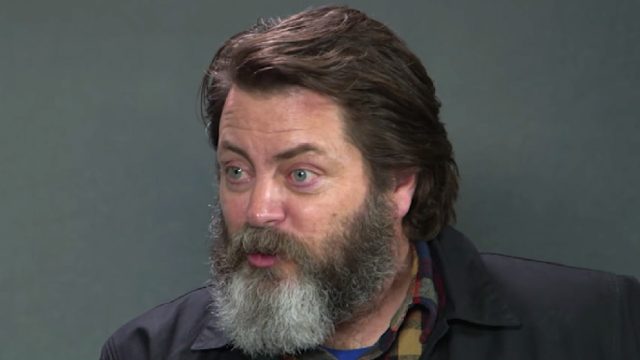 We obviously love him best with Megan Mullally, but since she's opened up about her past relationships before, we guess it's cool for Nick Offerman to discuss his worst date ever. (For the record, Mullally once went out with Michael J. Fox. The two hung out on go-karts back in the '80s. Offerman's story is a little less cool.)
Offerman admitted that he's never really dated too much, in a video compiled by Vanity Fair. The magazine actually interviewed a few celebrities, including John Legend, Jenny Slate, and Abbi Jacobson.
Just like Offerman and Mullally, we just can't imagine Legend dating anyone other than Chrissy Teigen— especially after seeing how cute they were at the Grammys. Sadly, he didn't really go into too much detail — and just said he had more bad first kisses than first dates. (So, uh — anyone who's ever dated John Legend, surely you have some stories.)
Watch them recall their negative — yet humorous — experiences.
https://www.youtube.com/watch?v=__4fieAkU4I?feature=oembed
What we love about Offerman's date is the fact that it's extremely quirky — and something we just know Megan Mullally would have found to be charming.
"I took this girl to dinner, she said, tell me something about yourself," Offerman said in the video. "I do theater, I love making puppets, I just made 27 puppets for this great Caryl Churchill play. Before I finished that sentence, she was calling for the check. I was like, you don't dig puppets?"
For actress and comedian Jenny Slate, her worst first date was when someone ruined The Sixth Sense for her — and yes, we can see how criminal that could be.
As for Jacobson, she mentions one of our ultimate favorite television shows, 30 Rock, when talking about why it didn't work with someone.
"He said to me, we are like Liz Lemon and Jack Donaghy," she said. "That dynamic isn't even romantic."
Thanks a lot, OkCupid!
But, all in all, we probably have to give the award for "worst first date" to Rashida Jones, who said that after a bit of kissing, her date "ended with him pleasing himself, [with] me just like two feet away watching."
Yikes.
We're just happy to know that really awful first dates truly can happen to anyone. This video is definitely a must-watch, especially if your Valentine's Day plans tomorrow are similar to your average Tuesday plans. Sometimes it just takes a few bad experiences before true love knocks on your door.