Nick Offerman, aka Ron Swanson, is selling you yard signs in this amazing ad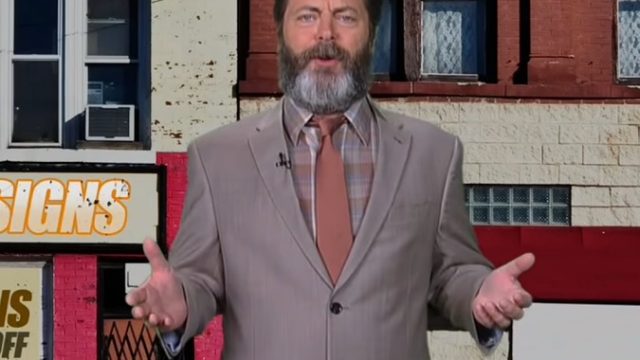 Need a laugh? The man formerly known as Ron Swanson's got you. In this funny fake ad, Nick Offerman tries selling you yard signs, since after all — they don't have to just reflect a presidential election.
Offerman appeared last night on Showtime's Stephen Colbert's Live Election Night Democracy's Series Finale: Who's Going to Clean Up This Sh*t, and argued that hey — you can express so much on a yard sign. Lost your keys? Why not make a sign about it? Need a new door for your home? How about a door made of signs?
We managed to find one very brief Parks & Recreation shout-out. Watch and see if you can figure it out.
https://www.youtube.com/watch?v=Fp7elocDhWQ
Did you catch it? We can't help but think that this might not be a total coincidence: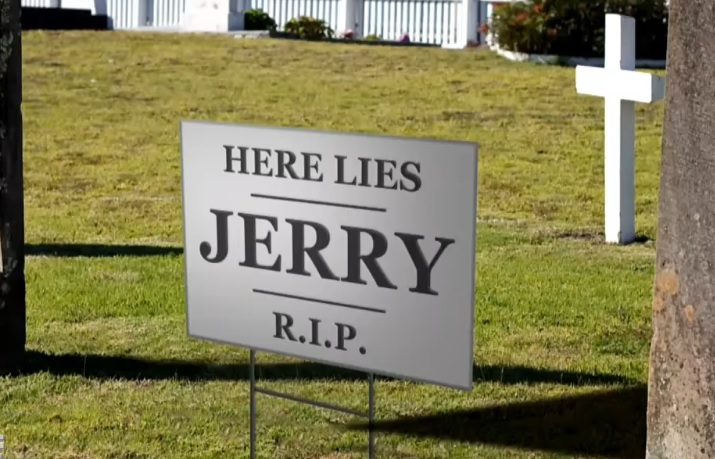 Throughout the season, he was best known as Jerry, not Gary or Larry. And, well. We all saw what happened during the totally fantastic series finale.
 We're just happy that Offerman can still make us smile! And hey, he has a point — why not tell the neighborhood about other thing you're interested in, through your lawn? You might make an unexpected friend or two.
If this video just makes you miss Nick Offerman, you'll be happy to know that he'll be in a ton of projects this upcoming year. One film in particular, The Little Hours, actually reunites him with past castmate Aubrey Plaza, and we support any project that these two both find to be funny.