Nick Jonas is in talks to join "Jumanji" and your childhood will never be the same
In 1995, an epic adventure movie starring the late, great Robin Williams about a magical board game that somehow comes to life hit theaters and all of our lives were changed for the better.
And, ICYMI, Sony Pictures is bring that magic right back to the big screen in a new Jumanji movie.
The cast of the movie is already pretty stacked with Dwayne Johnson, Kevin Hart, and Jack Black already signed on. Now Deadline is reporting that Nick Jonas is in talks to join the ensemble, which is news that makes all of our hearts going wild.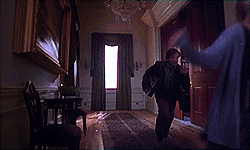 While there's still no official confirmation of the JoBro joining the cast, there's still plenty of time. The movie will likely start shooting relatively soon (though it's still technically in "pre-production" status) since it'll involve a number of special effects and is slated to come out next summer.
Nick is obviously better known for his prowess in the music industry, but he's had a couple breakthrough performances lately that have shown he's actually a really talented actor as well. Plus, he's just generally pretty delightful to watch on and offstage, so we can only imagine the type of playful energy he'd bring to an awesome movie like this.
While we don't yet have any details about the role itself, we do know that back in May, Johnson posted an Insta about the film saying they were still looking to fill a couple roles including, "One semi-sorta bad ass dude."
Because nothing is yet confirmed, we can only sit and wait for the good news. Needless to say, if we get to see Nick Jonas playing an intense game of life-or-death Jumanji along with a bunch of other talented performers, we'll be absolutely stampeding our way to the box office.