Nick Jonas literally subwayed to the 2018 Met Gala, and there are pictures to prove it
Yes, the Met Gala is one of, if not the, most glamorous events of the year, and celebrities pull out all the stops in terms of fashion, fierceness, and glam. But this year, Nick Jonas decided to do things a little differently. He nixed the limo/souped-up SUV and opted to take a more "humble" form of transportation to the ball. Nick Jonas literally took the subway to May 7th's 2018 Met Gala, and there's photo evidence to prove it.
Jonas, who wore a Dolce & Gabbana suit from their Alta Satoria line, posed for a quick shot while waiting at the 68th Street NYC subway stop. He looked like a glam vampire, or perhaps a stylish priest — both fitting for the Costume Institute's "Heavenly Bodies: Fashion and the Catholic Imagination" 2018 Met Gala theme. The "Believer" singer posted the subway selfie to his Instagram and Twitter, causing chaos among his followers. Most of them couldn't believe that they missed the opportunity to share a metro handrail with a JoBro. Talk about a divine experience.
Jonas is literally just like us (minus his designer wardrobe and access to the Met Gala — but still).
The singer even documented a few bits and pieces from his underground journey. He added the below GIF of the train arriving to his Instagram story and captioned it, "Met here I come." And in true New York City fashion, everyone around him acts like this is 100% normal.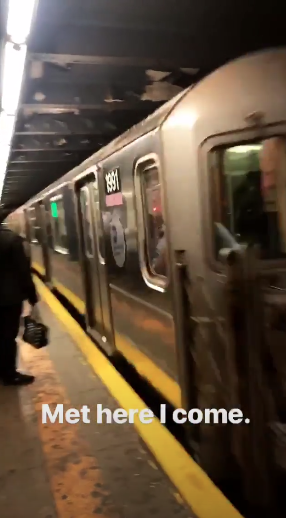 And we're happy to report that Jonas made it to his destination without any subway hiccups or delays.
https://twitter.com/udfredirect/status/993640585281130502
Here's to hoping that Nick Jonas makes subway travel his new preferred form of transportation. We're officially saving him a spot, just in case.