A brief history of Nick Jonas and Priyanka Chopra's relationship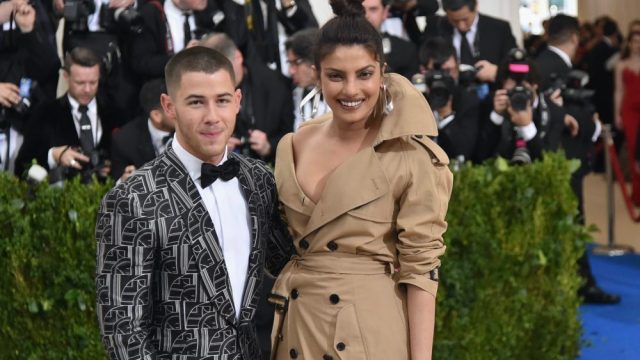 For the past two months, we've swooned over Nick Jonas and Priyanka Chopra's budding romance. And now, the two are reportedly engaged. So let's do one of our all-time favorite activities and take a look at how their relationship has developed…
Like several other recently engaged celebrity couples, Jonas and Chopra weren't dating for very long before deciding to tie the knot (at least that's the "official" story). The singer and the Quantico actress attended the 2017 Met Gala together, although Chopra later told Jimmy Kimmel they were just friends.
"We were both wearing Ralp Lauren, and we decided to go together, and it was fun," Chopra told the late night host.
Things were pretty quiet between Chopra and Jonas for a year, until May 2018, when UsMagazine.com reportedthat they spent Memorial Day weekend together, first seeing the Beauty and the Beast Live concert at the Hollywood Bowl and then, the next day, going to a Dodgers game. On May 30th, a source told the site that Jonas and Chopra had gone official.
"They are dating and it's brand new," the Us source said. "It's a good match and they are both interested in each other."
A few days later, on June 3rd, Jonas himself hinted at the relationship on social media, fawning over Chopra's smile in a comment on one of her Instagram posts.
Chopra returned the favor with a flirty comment on one of his photos.
The couple traveled together throughout the month of June, reportedly attending Jonas's cousin's wedding, then venturing to India at the end of the month, according to Cosmopolitan.com. Chopra even reportedly introduced her new beau to her family before they spent some time on the beach in the coastal state of Goa.
Wedding rumors were in the air yesterday, July 26th, when the director of Chopra's latest film, Ali Abbas Zafar, tweeted that the actress was leaving the project, cryptically writing that she had told him "in the Nick of time."
Zafar's tweet was only a taste of things to come. People.com reported that Jonas apparently shut down a Tiffany store to choose Chopra's engagement ring before popping the question last week as they were celebrating Chopra's 36th birthday in London. false
Congratulations, you two!