Everyone is saying Nick Jonas looked like this one specific GoT character at the 2019 Met Gala, and LOL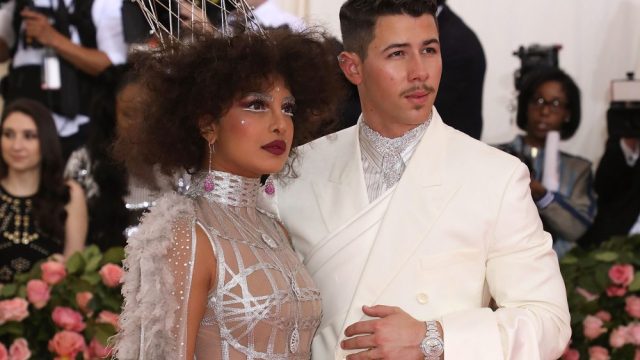 Last night, May 6th, A-list stars served their campiest looks on the 2019 Met Gala's pink carpet. Attendees brought a drag aesthetic via the theme "Camp: Notes on Fashion," rocking miles-long fake eyelashes, paying homage to '90s pop culture, and sporting bows on everything. That said, some of the night's outfits made more of an impression than others (see: Billy Porter's jaw-dropping "Sun God" ensemble). And Nick Jonas's 2019 Met Gala look is among those still making waves—because he looks exactly like a Game of Thrones villain.
The youngest Jonas brother arrived at the gala alongside his wife, actress Priyanka Chopra. The two were an ethereal vision, with Chopra decked out in feathers and a silver corset, and Jonas wearing a white tuxedo with flowing sleeves. In a pink carpet interview at the event, Jonas said that Louis XIV inspired their outfits, which were both designed by Dior.
Here's the couple together, for the full effect:
Jonas's draped sleeves, ring-encrusted fingers, and mustache-soul patch combo caused many on Twitter to point out that his outfit was a little reminiscent of Petyr Baelish (aka Littlefinger), the scheming former Master of Coin on Game of Thrones.
https://twitter.com/udfredirect/status/1125545160555814913
false
https://twitter.com/udfredirect/status/1125732182595723266
Jonas himself even acknowledged the similarities.
As did Sansa Stark…aka Sophie Turner.
"Quit trying to manipulate me........ugh I thought you died last season," she wrote in the comments.
Worlds colliding…and we're not mad about it.