Nick Cannon is expecting baby number three with his ex-girlfriend Brittany Bell (and we're low-key obsessed with her)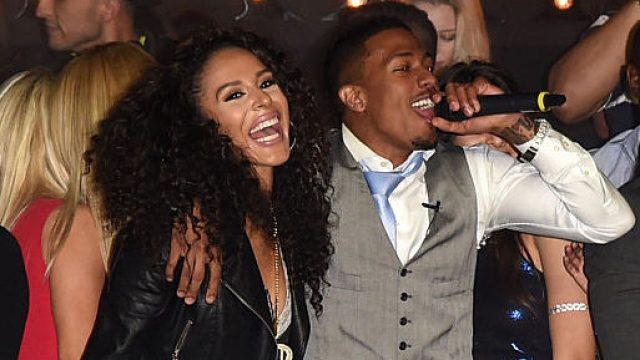 Oooh! Someone shacked up with their ex and has another offspring on the way to prove it! Nick Cannon is expecting a child with his ex-girlfriend Brittany Bell. We repeat: ex-girlfriend.
Admitting he was shocked himself, the America's Got Talent host confirmed the news to Power 105.1's Breakfast Club earlier this month.
"It's outstanding," he said. "Honestly they say even in unexpected situations, you still embrace the beauty of bringing a life into this world, because that is what life is all about."
https://www.instagram.com/p/BNgZicgDOuY
Cannon is also father to five-year-old twins, Monroe and Moroccan, with ex Mariah Carey. So, his forthcoming baby with the former Miss Arizona U.S.A. will be his third.
Cannon started dating the beauty queen after his split from Mariah in Decemeber of 2014, and they've been on-and-off ever since. However, though they're not currently together, Cannon would not call Bell his ex.
"Mariah [Carey] is my last 'ex,'" he told the Breakfast Club. "Everybody else is people that I've known, loved and cared for."
…and slept with.
Again, ?.
Bell announced her pregnancy on Instagram with a gorgeous pic of her bump (apparently she's six months along).
"Children are a gift from God…" she captioned the photo.
That they are, and we're very excited for the expectant mama.
While Cannon joined Carey and their sons in Honolulu for Thanksgiving, Bell celebrated at home, looking glowing and gorgeous in her own kitchen.
In addition to holding the Miss Arizona title in 2010, the Guamanian-American actress was crowned Miss Guam in 2014. [/subheader]
https://www.youtube.com/watch?v=kL8TOVlYylw?feature=oembed
She also sings, and dances, and it looks like she generally slays.
We are henceforth keeping Miss B. Bell on our radar.