Watch these NFL players do their daughters' hair, because it's the cutest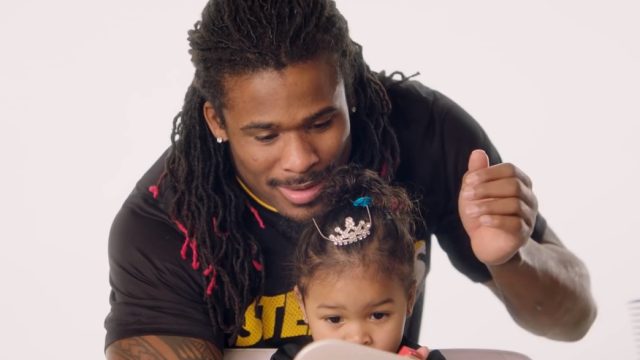 Just in time for the Super Bowl this weekend, Pantene is giving us a football-themed gift better than any touchdown. The shampoo company just released a series of videos showing NFL players trying to style their adorable daughters' hair. Emphasis on trying.
It turns out that creating a ballerina bun is a bit more challenging than catching a ball. We're looking at you, Jason Witten of the Dallas Cowboys. (Just teasing, of course. Your daughter, Landry, is as cute as a button, no matter what you do to her hair. Just promise us you'll never try to color it when she get older. Deal?)
Witten, along with Benjamin Watson of the New Orleans Saints and the Pittsburgh Steelers' DeAngelo Williams, created the "dad do's" for Pantene as part of their Strong Is Beautiful campaign. The idea is to encourage dads to spend quality time with their daughters. As the video series states in its opening frame, "Girls who spend quality time with their dads grow up to be stronger women." Now that's a message we can get behind, lopsided ponytails notwithstanding.
In truth, the dads aren't half-bad at styling hair. They just need a little practice. Except DeAngelo Williams, who is already crushing the hair game. We're thinking he might have a whole new career ahead of him. His princess puff is pretty darn impressive. Extra points for the tiara accessory, DeAngelo. Nice touch.
Check out the father-daughter cuteness in the series of videos below:
https://www.youtube.com/watch?v=KXPvh8kMFek?list=PLIUDgI1r16CuRE2J3qRZ9QwymgYNbfpT8