This NFL player's beautiful message to his daughter reminds us what we're fighting for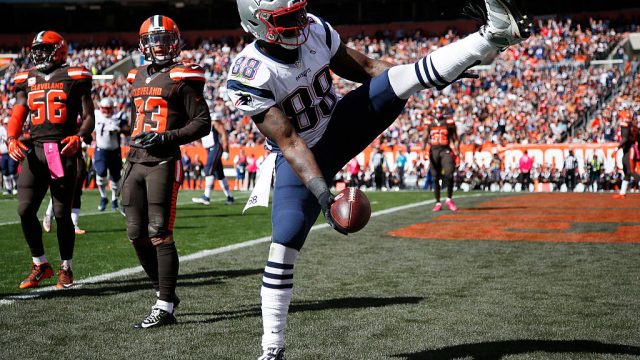 It has been a difficult week for women across the country. After a very contentious election, many of us are heartbroken. Many feel that our rights and needs as women were voted down by America, and that stings. Many parents wonder what messages to share with their kids, but we are inspired that so many of those messages are hopeful. Reese Witherspoon's mom, for example, delighted us all with her inspiring practicality. And one awesome NFL player, Martellus Bennett, who loves his daughter Jett so much that she's basically the star of his Instagram, had a beautiful message for her.
New England player Martellus Bennett told his daughter Jett that her training for greatness starts today.
https://www.instagram.com/p/BMmxptMhEAq
"'Daddy how will this effect my future?' Jett, I'm not totally sure my love. You'll be 7 in four years, you'll be in the 2nd grade. Your mom and I have a lot of work to do. We will continue to teach you How to love, accept others for who they are, think for yourself, help others in need, achieve what the world deem impossible. It's ok for you to color outside of the lines. I will continue to encourage other kids as well because they'll impact your future directly. The world will one day be all of yours, no time to wait training starts now. So unfold your arms and reach for the stars because if anyone can touch them it's you. Don't be afraid of your tomorrows, make the most of your todays. Training starts today. So stand up you're a GIANT!! You deserve a world full of color, wonder and dreams. Let's color the world together, your dreams are my dreams. Together we can be the change we wish to see in the universe. We have a lot of work to do, but I think we will have help. I am very proud of you! This is a huge weight to put on your shoulders but don't worry about that I'll always be here to spot you. Training starts today. I love you. Now Let's go! #theimaginationagency"
Martellus' message tells us all to look at children and encourage them to be great. Because as we've heard so often, they're the future. We'd like to make sure all of us are training for the future, so that next time we can win.
Martellus followed his inspiration post with another beautiful message.
https://www.instagram.com/p/BMoMXZhBv_N
"Training has started. Color the world my love, go crazy, don't worry we have plenty of chalk. Plenty of hope. Plenty of love. Plenty of encouragement. Plenty of joy. Plenty of kindness. You just focus on coloring outside of the lines."
In a world that seems like it's getting more negative all the time, we really need Martellus' message for love and kindness. And we will fight to protect Martellus' daughter as well as all of the daughters around the country. As long as we band together, we're unstoppable.
We all need to be strong for the little ones, like Martellus' daughter Jett.
https://www.instagram.com/p/BMcDEnzB05L
Now, let's take his advice and color outside the lines!