The NFL has reached a "compromise" on the #TakeAKnee movement, but no one's happy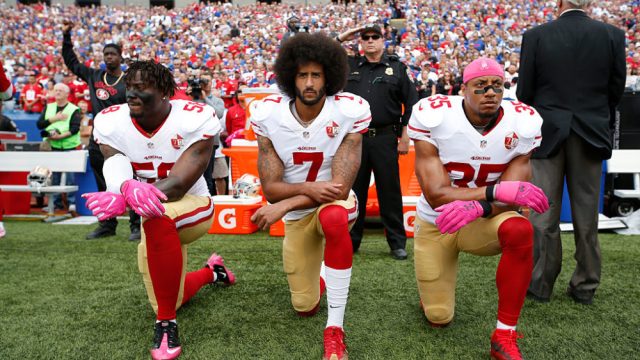 For the past two football seasons, San Francisco 49ers quarterback Colin Kaepernick has been protesting police violence against black men by kneeling during the national anthem. As a result, Kaepernick and other players who choose to #TakeAKnee have faced condemnation, from many, including President Donald Trump. The controversy surrounding this movement has finally led to the NFL revising its national anthem policy, and although the changes were described as a "compromise," they leave a lot to be desired.
NFL Commissioner Roger Goodell revealed the new policy during a meeting in Atlanta today, May 23rd. He stated that athletes and staff "shall stand and show respect for the flag and the Anthem" if they are on the field. In other words, taking a knee will no longer be allowed. If players wish to protest, they will have to remain in their locker rooms or elsewhere off-field.
In a statement about the policy, Goodell said that the protests had "created a false perception among many that thousands of NFL players were unpatriotic," but that this wasn't true.
"We believe today's decision will keep our focus on the game and the extraordinary athletes who play it — and on our fans who enjoy it," he concluded the statement.
According to CBS, if the policy is violated, teams will be punished, rather than individual players. George Atallah, the Executive Director of External Affairs for the NFL Players Association, tweeted that representatives for the players themselves had no hand in the "compromise."
The NFLPA wrote in a statement that it would challenge any inconsistency in the way the policy is implemented.
"The NFL chose to not consult the union in the development of this new policy,'" the NFLPA's statement read. "NFL players have shown their patriotism through their social activism, their community service, in support of our military and law enforcement and yes, through their protests to raise awareness about the issues they care about."
NFL Network analyst and reporter Steve Wyche tweeted that the 49ers' owner had abstained from voting on the anthem policy because of the lack of player input. On Wednesday, May 23rd, New York Jets acting owner Christopher Johnson told Newsday that he would personally cover any fines his players receive for taking a knee, and that he supports their right to do so (though he voted in favor of the ruling).
Many Twitter users also condemned the league for its decision.
By forcing players to take their protests to the locker rooms, the NFL has shown clear disdain for free speech. We will always stand by those who wish to protest peacefully — both on and off the field.