She & Him just dropped a powerful pro-LGBTQ ballad, and hold on, we've got something in our eye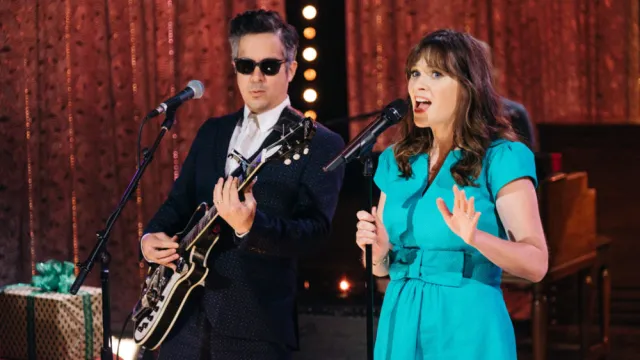 With New Girl wrapping up its final season, Zooey Deschanel is heading back to the recording studio to focus on her other passion: Music. She & Him, her folk duo with M. Ward, has released some new tunes, and we couldn't be any happier. They introduced two fresh tracks or, technically speaking, two new versions of the same song. But hey, given that this is the first time in five years that they released new songs (not including holiday tunes), we're not complaining.
Deschanel and Ward are among the artists that contributed to Universal Love, an ongoing project fromMGM Resorts that features gender-flipped love songs to be more inclusive and reflect the world of LGBTQ relationships.
The album, which included Bob Dylan's "She's Funny That Way" (reworked to "He's Funny That Way") and St. Vincent's "And Then She Kissed Me" (reworked to "And Then He Kissed Me), is intended to be a compilation of wedding anthems for same-sex unions. Artists like Kesha, Benjamin Gibbard, Valerie June and Kele O'Kereke, have also contributed to the project.
The Grammy-nominated duo penned "He Gives His Love to Me," and its counterpart "She Gives Her Love To Me," tracks that exhibit their signature folk-pop tune. It also happens to be the first original composition to be included in Universal Love. "S/he said love me just a little bit more, hold me just a little bit longer, say my name the way you used to," Deschanel sings. "S/he gives her/his love to me unconditionally, how could I ever refuse you?"
"We have always believed that love belongs to everyone - so love songs should too," the two said in a press release. "What drew us to this project is that it opens up new ways of thinking about songwriting.  It would be amazing if our songs help to inspire other artists to engage with lyrics in a more open, and inclusive way."
Listen to the new She & Him tracks below and try your hardest not to cry:
"He Gives His Love to Me" and She Gives Her Love to Me" are now out on iTunes, Apple Music, Pandora, and Spotify.