How will Winter Storm Toby affect flights today? We have some bad news…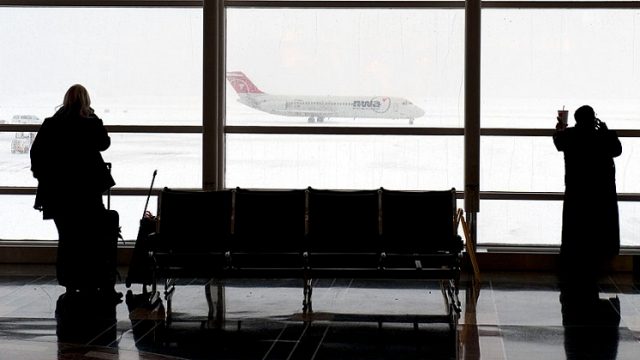 When you're set to travel, nothing is more of a bummer than a storm mucking up your plans. And while Winter Storm Toby has been in the news for several days, details on the severity of the storm have been up in the air. But now that it's officially hit the East Coast, here's what we know about how Winter Storm Toby will affect your flight.
Delta Airlines has set an alert regarding flights to, from, or through Northeastern cities from D.C. to Rhode Island and Connecticut. Impacted flights are free to reschedule and refund for the unused portion of the ticket (for a time). They're also offering a one-time change to tickets without incurring a fee. Throughout the day, Delta flights may be cancelled or delayed. The best thing to do is keep up-to-date on their website before heading out.
American Airlines also offers live flight information through their website. For passengers who bought their ticket before March 18th, change fees may be waived if passengers don't change their initial destination plan. Flights that are affected include all major East Coast cities, from the Washington, D.C. area to Boston, Massachusetts and Providence, Rhode Island.
United Airlines state that they sometimes offer travel waivers during weather hazards, but according to their website, nothing has been issued for Winter Storm Toby yet.
Flights out of Baltimore, Pittsburgh, and Washington, D.C. between March 20th and March 21st will have their change/cancel fees waived on JetBlue, and customers will be able to rebook their travel up until March 23rd.
Of course, you may also want to check in with the airport itself. This morning, LaGuardia Airport tweeted that they've canceled almost 850 flights due to the storm.
Since they announced 590 cancellations yesterday, it means that the situation is definitely worse than they originally predicted. Dulles International Airport also reported that while their runways were open, they're expecting delays and cancellations throughout the day.
BWI reports that conditions are wet in Maryland, and some delays and cancellations will happen, but flights are currently operating.
The best way to get the most up-to-date information is to check each airline's website or download an app that'll give you live updates on your phone. Just remember to stay safe out there!