Trump says border wall construction has begun, but uh, that's not true at ALL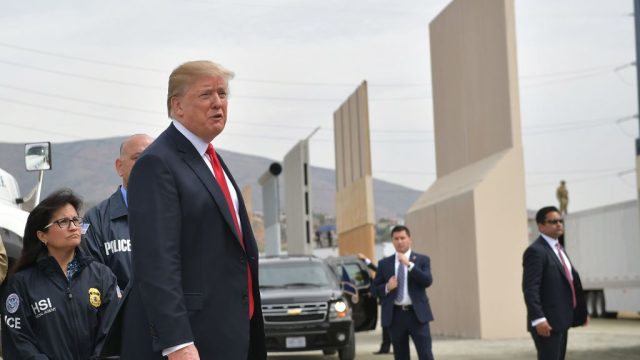 It's one thing for Donald Trump to have plans for the country that we disagree with, but it's pretty offensive that he insists on lying about them, too. This week, Trump said that border wall construction had started in California via a tweet, complete with pictures of a wall and forklifts and workers in hard hats. It looked like things were really being built and money was just flowing through the economy. It was a way for the president to pretend that his notorious border wall, which was the genius policy idea that kicked off his campaign to begin with, was actually happening.
But the pictures of the wall being built on his Twitter feed are akin to someone taking a selfie of themselves reading Proust in its original French to look smart, but the book is upside down. There was nothing true or real about the context of the pictures the president shared. It was, in the president's own words, fake news.
The pictures Trump tweeted were of a "wall" being built in downtown Calexico, a project that has been in planning stages since 2009. According to the Los Angeles Times, agents walked attendees of the El Centro Sector's Border Patrol citizen academy (basically an event to show people what it's like to be a border agent) around the border for a tour earlier this month. There, Jonathan Pacheco, a spokesman for the Border Patrol's El Centro Sector, told people, "First and foremost, this isn't Trump's wall. This isn't the infrastructure that Trump is trying to bring in…. This new wall replacement has absolutely nothing to do with the prototypes that were shown over in the San Diego area."
https://twitter.com/udfredirect/status/979082457340407808
Hilariously, the San Diego Union Tribune reports that it's not exactly a wall being built over in Calexico. It's not even new. The original fence was built there in the 1990s with metal scraps and a landing mat. The replacement is a "30-foot fence that is slated to replace the decades-old barrier," and made of "bollards, or metal posts planted close together but with enough of a gap to see through the barrier."
"Although the existing wall has proven effective at deterring unlawful cross border activity, smuggling organizations damaged and breached this outdated version of a border wall several hundred times during the last two years, the agency said, according to the New York Post.
The Border Patrol is calling it a wall, but it's a fence, which is a very far cry from this impenetrable barrier to block human beings from crossing over into the U.S. that some Trump supporters might see in their dreams. Justin Castrejon, a spokesman for the Border Patrol's El Centro Sector, said in an interview this month, according to the same Los Angeles Times report, "It was ultimately funded under the current administration in 2017, but is completely separate of any political talk or commentary."
Yet, Trump supporters are acting like this is a new project Trump started and that it has something to do with his famous pet project. It would be sort of embarrassing, if the implications of a president knowingly misleading the public weren't so infuriating and scary. The only other reason for these tweets is that an aide lied to Trump and pretended this was a new thing, which just…can't be true. Can it? We don't know what's real anymore. Life in 2018, guys.
Listen, we get why he feels like he needs to drum up excitement about this wall and make it look like he's actually accomplishing something. It's because he's really, really not getting anything done, and that's especially true of things having to do with this wall. On the campaign trail, he insisted that he would negotiate a way of getting Mexico to pay for the wall. Mexico has refused (of course) to pay for the wall ever since. When the Mexican president said as much in public, Trump was not happy and tried to cover the country's position up so no one would know he was a big phony.
According to transcripts of a January 2017 call with Mexican president Enrique Peña Nieto, Trump asked him to stop defying him so loudly. The president said, "You cannot say that to the press. If you are going to say that Mexico is not going to pay for the wall, then I do not want to meet with you guys anymore because I cannot live with that."
https://twitter.com/udfredirect/status/771294347501461504
Then Trump added, to the surprise of no one except the MAGA crowd, the president told Nieto that the wall was "the least important thing we are talking about, but politically this might be the most important."
Donald Trump is not as stupid as some of us would like to think he is.
In San Diego, looking at prototypes of a border wall last month, Trump laid out some of his wishes for this $25 billion dollar wall. He wants a high wall, because he believes that Mexicans are "professional mountain climbers." and one that border agents can see through. "You have to know what is on the other side of the wall. You can be two feet away from a criminal cartel and you don't even know that they are there," he said. "If you don't have a wall system, we're not going to have a country," Trump added.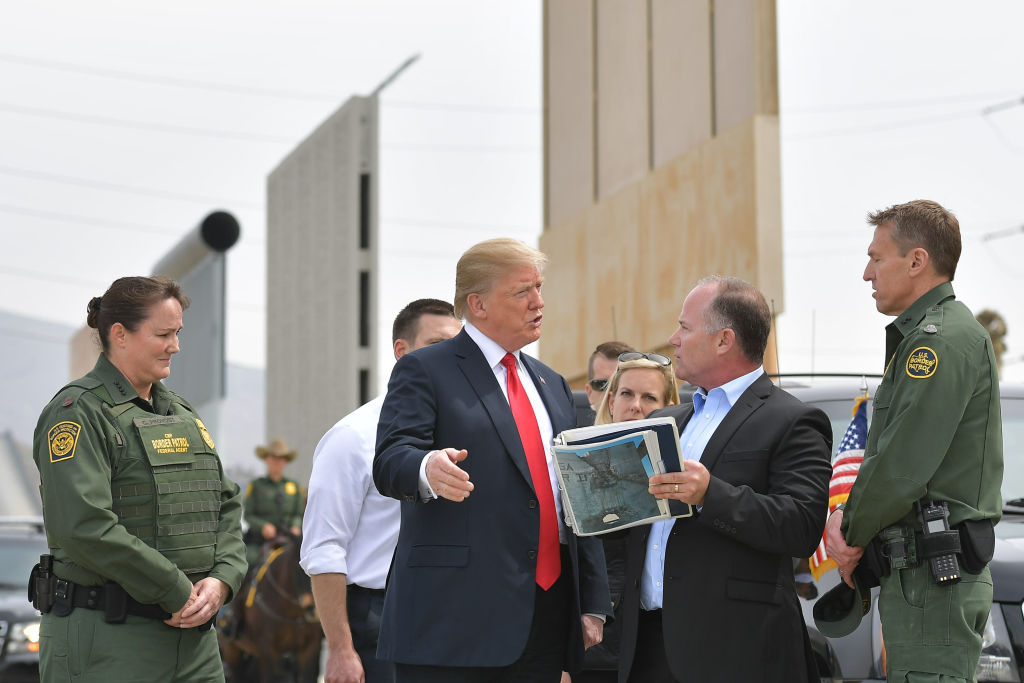 Things are getting so dire when it comes to making good on this campaign promise for a big border wall, Trump is now asking the Pentagon to try to fork over some dough. He apparently met with Speaker of the House Paul Ryan, as reported by CNN, to see if they could rework the budget and find military dollars — you know, funds that go to the Department of Defense for actual, effective military personnel and equipment — to pay for the wall so he doesn't look like a jerk in front of his supporters. However, to edit the budget you need every single member of Congress' approval, and that's not something that's going to happen, especially after the 2018 midterm elections.
https://twitter.com/udfredirect/status/977855968364171264
The administration is also thinking about asking Mexico to rework some trade deals to make up for the difference, which is so ironic given how disparagingly Trump talks about the country in public, or raising the tolls for people who cross from the U.S. into Mexico. An official told CNN that these were just some of the president's "musings."
https://twitter.com/udfredirect/status/901802524981817344
White House press secretary Sarah Huckabee Sanders said in a press briefing this week, "I can't get into the specifics of that at this point, but I can tell you that the continuation of building the wall is ongoing, and we're going to continue moving forward in that process."
But know this: There is no new wall being built right now, and the pictures Trump posted was just a picture of Border Patrol replacing a makeshift metal scrap fence with another fence made of new materials. It's no wonder Trump is always so cranky on Twitter — he made really dumb promises to his supporters that he can't follow through on. But a president (or any adult) should just own up to the difficulty and come up with a new plan. There's no need to lie, or lie so blatantly, to people.