The Trump administration just rolled back affirmative action guidelines, and this could have serious consequences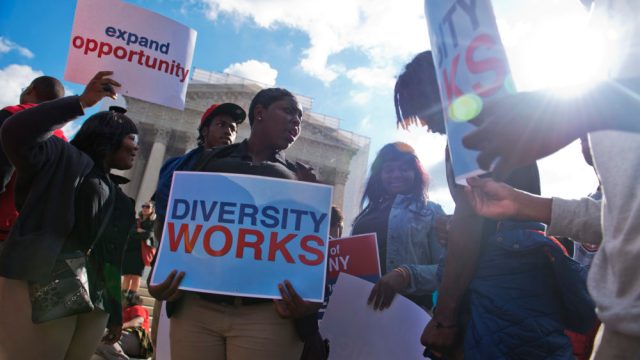 We may live in the 21st century, but racial discrimination is still a very real problem in the United States. Affirmative action has been a longstanding tool in the fight against racial bias in school admission processes. But today, July 3rd, the New York Times reported that Trump administration officials are now encouraging schools to stop considering race as a factor in admissions.
According to the Times, the Department of Justice is eliminating seven guidelines created by the Department of Education under President Barack Obama, which encouraged schools to factor in a student's racial background when considering them for admission. Devin M. O'Malley, a spokesperson for the department, told the Times that the current administration felt the Obama-era rules went "beyond the law."
"The executive branch cannot circumvent Congress or the courts by creating guidance that goes beyond the law and — in some instances — stays on the books for decades," O'Malley told the Times. 
According to Politico, the retirement of Supreme Court Justice Anthony Kennedy could also enable the Trump administration to gut affirmative action policies. Politico noted that Kennedy voted to uphold race-based admissions policies several times, so nominating an anti-affirmative action justice to replace him could jeopardize that legacy.
The end of affirmative action could be devastating for campus diversity — and there is data to support this. According to the Los Angeles Times, California banned public universities from including race as part of admissions criteria. The repercussions were felt almost immediately. After the ban went into effect, the number of black students enrolled at UCLA decreased by almost half between 1995 and 1998. Similarly, the number of black students at UC Berkeley dropped from 215 to 126 over the same period.
The United States is a diverse country and American college campuses are all the stronger when they reflect that. The Trump administration's anti-affirmative action stance is concerning to say the least, and gives us even more reason to get out and vote in the midterm elections this November.