Disney just opened a brand new Toy Story Land, and the pictures are taking us to infinity and beyond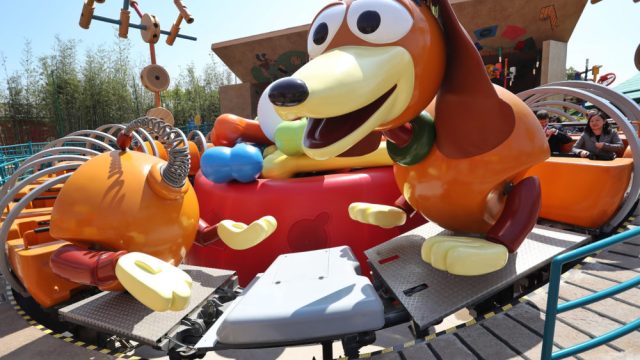 Are you ready to feel like a kid again? All you have to do is travel to China, nbd, because Shanghai Disneyland just officially opened the gates to Toy Story Land, and it sounds almost too good to be true for any fans of Buzz, Woody and the rest of Andy's toys.
Disney's brand new Toy Story Land in Mainland China's Disneyland resort is officially now open to the paying public, and it marks the first major expansion of Shanghai Disneyland since it opened in 2016. This new addition is all Toy Story-themed, and the photos coming out from its opening day are incredible. The theme park's seventh themed land features three new attractions, a themed character greeting area, and immersive shopping and dining experiences that will make any Toy Story fan squeal with jealousy.
Come on, just look at all these lucky fans who got to be there today for the grand opening and just try not to feel green with envy:
false
false
false
false false false
https://www.instagram.com/p/BiChmz5gvn6
https://www.instagram.com/p/BiCDwShlpE9
But don't worry, you won't have to travel all the way to Shanghai to get the chance to visit Toy Story Land in person. A Toy Story Land opened back in 2011 at the Hong Kong Disneyland, as well as the Disneyland Paris. And if you can't afford an international trip, there is even a Toy Story Land set to open in June in Disney's Hollywood Studios in Florida.
So now you can go to infinity and beyond within the continental United States, although you'll have missed out on life-size Toy Story characters Woody, Jessie, and Buzz Lightyear performing "You've got a Friend in Me" along with Disney boss Bob Iger; Chen Qun, Vice Mayor of the Shanghai Municipal People's Government; and Zong Ming, Deputy Secretary General of the Shanghai Municipal People's Government.  Did you just feel that massive wave of FOMO? Because we certainly did.