Toronto police arrested Thanos from Infinity War, Twitter has jokes for days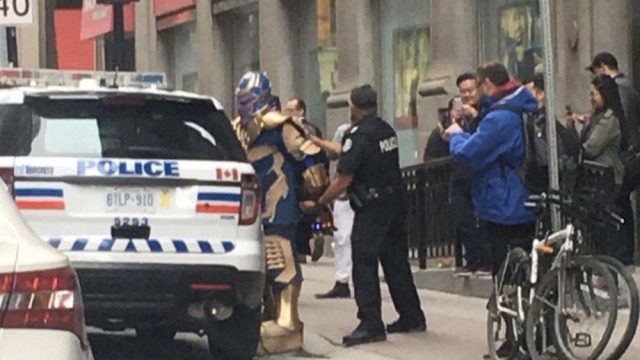 Justice is sweet, especially when it involves a high-profile villain and the police. Over the weekend of May 11th, cameras caught Toronto police arresting Thanos from Infinity Wars (or at least someone dressed like him), and the pictures are  epic — as are the jokes on Twitter.
A photo that has since gone viral shows a person dressed in full Thanos gear (armor and all) looking like he's being cuffed by local police. The Toronto PD haven't revealed any details about the arrest, and we still don't know who this person is nor why they were dressed like the villain.
In case you missed it, Thanos is the big baddie in Avengers: Infinity War — one of the biggest villains in the Marvel universe (with some seriously destructive plans that may or may not have rocked the Marvel universe to its very core). We don't want to give away any spoilers for those who haven't had a chance to catch the movie yet, but let's just say it's definitely nice to see Thanos getting what he deserves.
Twitter is also loving this too-good-to-be-true moment, and the jokes and memes are on point (however, SPOILER ALERT for some of the below posts!).
false
Who knew it would be this easy, right?!