Taylor Swift returned to her Nashville roots in a surprise mini-concert at Bluebird Cafe, where she landed her first record deal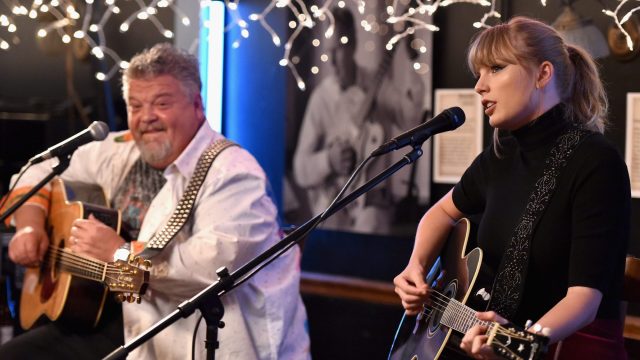 Taylor Swift may be one of the top-selling female recording artists of all time, but that doesn't mean she's forgotten where she came from. The chart-topper surprised an intimate audience of about 40 (lucky!) music fans on Saturday, March 31st, when she returned to the same venue where she was first "discovered" back in 2005.
Prolific country songwriter Craig Wiseman was slated to headline the small show at Nashville's famed Bluebird Cafe. But after he took the stage, Wiseman welcomed none other than Tay Tay herself to join him (to a standing ovation, of course). The two first met at a charity show back when Swift was just a teenager, according to The Tennesseean.
Besides performing staples like "Shake It Off" and "Love Story," Taylor Swift knocked back a shot of Fireball Whisky and reminisced about her roots.
"I wanted to say a big thank you to the Bluebird Cafe," Swift said. "I think any songwriter in town would echo my sentiments and say that this is kind of the only place where this exists — this particular place where you get to come and hear the writer's take on the songs they've put out into the world."
Oh, to be a fan in that crowd!
Wiseman hilariously recalled a CMT after-party at which he introduced Swift to the cinnamon whiskey she enjoyed again Saturday night.
"I got her a shot of Fireball, and then I got her another one," Wiseman said. "For the rest of the party, I would go get a shot of Fireball and snake my hand through the people in her general direction. I don't even know if she took it, but it disappeared."
Laughing along, Taylor Swift confessed that the shots weren't the only thing to disappear at that party.
The singer, who recently dropped two music videos for "Delicate," admitted that she and friend/fellow musician Ed Sheeran made off with a large inflatable bottle of Fireball. Because sure, why not?! false
Swift's surprise performance was recorded for a documentary celebrating the 35th anniversary of the Bluebird Cafe, where Swift was offered her first publishing deal as an eighth-grader.
Obviously, this was one incredible surprise that will forever be part of the Bluebird Cafe's musical history. Enjoy your success, T-Swift — you earned it.